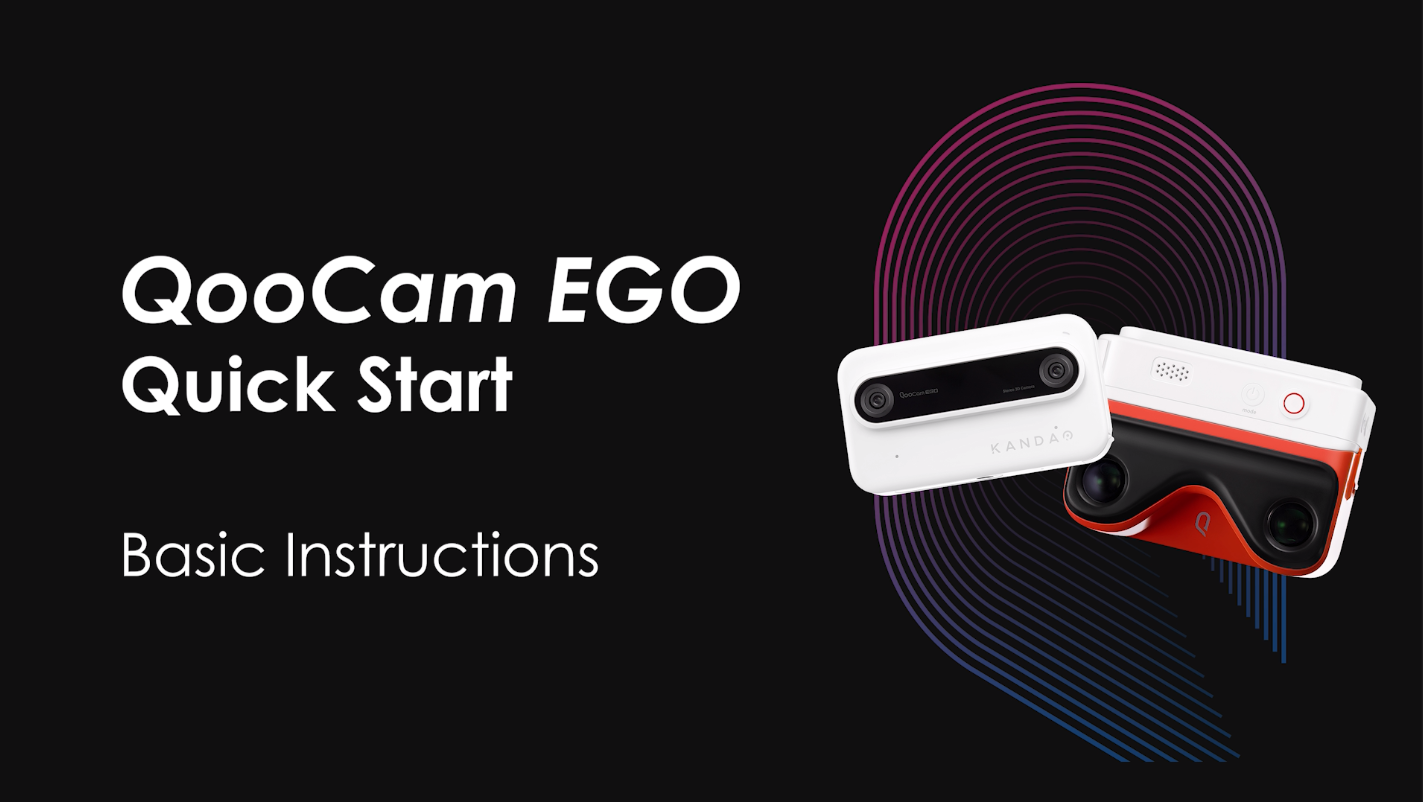 Kandao is the world's leading 3D 360 camera manufacturer that enables you to capture, share and experience life in a whole new dimension. QooCam EGO is a snap-and-watch VR viewer-integrated 3D camera that expands the boundary of human vision. It enables 3D footage to be playback directly through the eyepiece right after shooting by integrating the process of shoot-watch - output into one device.
Get to know the camera
Get ready before use
Push down the spring piece to open the battery door. It has a Micro SD card slot and a type-C charging port.

The battery door can be removed, when connecting the cable to charge.And can be installed by snapping back the buckle. Use the USB-C cable to connect the camera and the adapter to charge.The indicator light will show red when charging. Also you can pull out the battery and charge it alone with the battery charging dock.

*Press firmly the battery after inserting.
Make sure the arrow on the sticker is facing the SD card slot when inserting the battery. Videos and photos can be stored in the inserted SD card. Insert the SD card following the direction shown in the video. Supports up to 256GB micro SD. Speed grade as U3 is recommended.
Boot Settings
Long press the power button for 2s to power on. Select the system language and set up date,time,and time zone when first use.
About Shooting
Short press the power button to switch the shooting mode. Select the photo mode. Then adjust the focus distance. Small value on the left side is for close objects. Press the shutter button or tap the touch-screen shutter to take photos. Swipe right on the main screen to enter the playback album. Swipe left or right in the album to view photos and videos. Or you can also enter playback by pressing the playback button on the side. Switch shooting mode to video mode. Press the shutter button or tap the touch-screen shutter to start video recording. Slide the seekbar down below the video can adjust the viewing clip. Slide on the right of the screen can adjust the volume. And slide on the left can adjust the brightness.
Screen Operation
Swipe down from the main screen to call out the setting menu.
It has Wi-Fi toggle, volume and brightness adjustment. Other settings and accept sharing. Swipe right can enter playback. Swipe left can select focus distance. Swipe up can adjust shooting parameters. Contains settings of exposure value: frame per second, countdown timer and exposure mode.
Integrated 3D Viewer
Snap the 3D viewer following the direction shown in the video. QooCam EGO has a magnet built-in, so the viewer won't be snapped-in in the wrong direction. Finally, you can view 3D photos and videos with the viewer.