QooCam 3, a 360 Action Camera with Superior Image Quality. With dual fisheye lenses, it produces stunning 5.7K 30FPS 360° videos and high-resolution 11K panoramic photos. Equipped with wide F1.6 apertures and two 1/1.55-inch sensors, it excels in low-light conditions, delivering vivid and intricate imagery. Plus, its integrated stabilization ensures seamless shooting in various scenarios, from aerial and handheld to biking and off-road racing.
SuperSteady
Stabilization
Full Angle, Full Marks
360° Panorama
Record Immersive Panoramic Contents
Equipped with two ultra-wide-angle fisheye lenses, it captures in 360 degrees with ultra-high-definition image quality.
5.7K 30FPS Panoramic Video
Capture the Action
Kandao QooCam 3 records brilliant 5.7K 30FPS 360° videos, capturing actions without missing any moment. With adjustable parameters, creativity has more possibilities.
60FPS High Frame Rate
60FPS Flawless Video
QooCam 3 supports high frame rate video recording at 60FPS, ensuring every shot is captured with exceptional clarity and smoothness. Whether skiing, cycling, diving, or parachuting, it will capture perfect details in any action-packed scenario.
Audio SuperSteady and 360° Ambisonic
QooCam 3 doesn't just focus on visuals. It's a true sensory experience. With its 360° Ambisonic audio, you'll enjoy spatial and immersive sound that complements your visuals perfectly. After Audio SuperSteady processing, regardless of how the camera rotates during shooting, it can always ensure that the sound comes from the correct direction.
62MP Panoramic Photo
Capture Unforgettable Moments in Brilliant Detail
Unveil the world in stunning detail with the QooCam 3's 62MP panoramic photos. Zoom in without losing clarity, capturing vivid memories and breathtaking scenery.
Capture Now, Frame Later
Be Your Own Director
No need to consider of the layout. Frame however you like after image capture through the QooCam 3 App or QooCam Studio. Be your own director and unleash your creativity.
Invisible Selfie Stick
Shoot in Third-Person Perspective
When shooting panoramic videos, the algorithm can automatically hide the traces of the selfie stick, making it easy to shoot stunning third-person perspectives and aerial perspectives of simulated drones.
two 1/1.55-inch sensors
A Larger Aperture and Sensor
Featuring a wide F1.6 aperture and two 1/1.55" sensors with 2μm pixel size, QooCam 3 captures abundant light, enhancing details in darker regions, and delivering clear, refined images.
Superior Night Shot
Record Charm of Nights
QooCam 3 excels in low light with its large sensor and aperture, capturing clear and vibrant night shots. Experience a qualitative leap in imaging, restoring real light perception and capturing the beauty of the night.
Exceptional Light Sensitivity
Increased Light Intake and Retain Greater Detail in Low-light
A 1/1.55" sensor with a large aperture of F1.6 makes it stand out for its high resolution and exceptional light sensitivity. Its lens-sensor combination allows light intake comparable to cameras with 1-inch sensors, ensuring impressive image quality.
QooCam 3
Sensor:1/1.55"
Aperture:F1.6
Light Gathering Ability:100%
1/2" Sensor Camera
Sensor:1/2"
Aperture:F1.9
Light Gathering Ability:52%
1" Sensor Camera
Sensor:1"
Aperture:F2.2
Light Gathering Ability:103%
Faithful Color Optimization
True-to-Life Color Representation
Building upon the color toning style of the Obsidian series, QooCam 3 delivers enhanced dynamic range and vivid color reproduction. Experience realistic and vibrant colors in your photos and videos, enabling you to authentically capture and share your stories.
Professional Imaging
Kandao's Pioneering VR Technology
A pioneer in 3D 360 VR imaging, Kandao Technology is renowned for world-leading technology and professional VR products that set industry benchmarks. Leveraging expertise and cutting-edge advancements, Kandao empowers the consumer-grade QooCam 3, redefining imaging excellence.
DNG8 with Raw+ algorithm
Generate Your MasterPieces
With QooCam Studio and Raw+ software processing, QooCam 3 surpasses optical limitations, capturing enhanced panoramic photos that preserve rich image details and deliver exceptional quality.
Expanded Features
SuperSteady Stabilization2.0
Effortless Stable Image
With a built-in six-axis gyroscope, QooCam 3 eliminates the need for a stabilizer during activities like handheld shooting, pet tracking, mountain biking, and off-road racing.
Stabilization OFF
Stabilization ON
360°Horizontal Correction
Horizontal Correction
QooCam Studio enables seamless 360° horizontal correction, ensuring picture shoots remaining stable and perfectly level, regardless of any flips or movements during capture.
IP68
Waterproof and Dustproof
With an IP68 rating, QooCam 3 is waterproof and dustproof. QooCam 3 can resist pressure that equals a 10-meter depth of water. Shooting does not need to be cautious in dust and splash.

*Not suitable for diving shooting without case.
Weather-Resilient
Unaffected by Freezing or Sweltering
QooCam 3 thrives from 0°C to 40°C, ensuring reliable performance for outdoor activities like skiing and hiking. Its exceptional temperature adaptability and durability make it the perfect companion for any adventure.
Compact and Portable
Portable and Sturdy
Weighing just 189 grams, QooCam 3 is compact and portable. The solid and durable construction, tested against drops, ensures reliability. The detachable lens covers provide added protection, enhancing durability for long-lasting performance.

*Camera Size:71.5mm × 82.7mm × 26.6mm
Unleash your Imagination
11K Interval Photography
Make Your Flipbook
In interval shooting mode, QooCam 3 captures stunning 11K quality panoramic photos at specified time intervals. Create mesmerizing time-lapse effects, taking you on a visual time-travel journey.
Time-lapse
Capture the Essence of Light and Shadow
Use time-lapse to condense the beauty of mountains, rivers, shifting clouds, and bustling traffic into captivating moments. Experience the mesmerizing play of light and shadow over time, elevating the visual impact of your pictures.
Remote Control
Seamless Smartphone Connectivity
Easily connect to your smartphone via the QooCam 3 App for enhanced convenience. Control your camera remotely, edit your footage, and swiftly share your creations to social media platforms.
QooCam 3 App
Instant Post-processing
Utilize the QooCam 3 App for instant footage editing, keyframe marking, intelligent tracking, acceleration, and more, giving you full control over your artistic vision.
Smartclip Template
Guided Clip Creation
Within the QooCam 3 App, explore a variety of engaging AI smart templates. Shoot footage following the tutorials, then import it to the app for automatic generation of impressive and captivating clips.
Filter
Personalize Your Style
Customize your image with a range of flexible filters to showcase various styles and make your creations even more captivating and visually appealing.
Social Platforms Sharing
One-tap Export and Sharing
With a single tap in the QooCam 3 App, effortlessly share your edited masterpieces to social platforms.
Professional Post-Processing Software
Enhanced Batch Editing, QooCam Studio
With the desktop software, QooCam Studio, easily process panoramic content in batches while maintaining image quality. Enjoy improved efficiency in editing footages.
Improved User Experience
1600mAh Detachable Battery
Extended Battery Life
QooCam 3 is equipped with a detachable 1600mAh battery, ensuring longer-lasting power. Capture longer on a single charge and easily swap batteries for even longer shooting.
1.9-inch LCD Touchscreen
Responsive Touch Control
QooCam 3 features a 1.9-inch LCD touch screen to easily access settings, adjust parameters, switch modes and immediate preview after shooting.
File Transmission
Easy File Transfer
Simply connect with a USB-C cable to copy files from the camera to your computer, ensuring secure and hassle-free file transfers.
Capture Every Wonderful Moment
Specifications
---
Product Name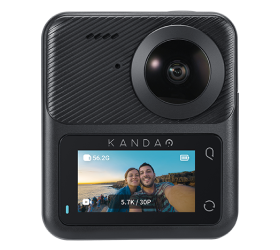 Kandao QooCam 3
CMOS
1/1.55''
Aperture
F1.6
35 mm equivalent focal length
9.36 mm
Exposure compensation
±2 EV
ISO range
100-6400
Shutter speed
Photo: 1/6400s-60s
Video: 1/6400s-to the limit of frames per second
White balance
Auto, 2500K-8000K
Maximum resolution of photos
62MP (11136×5568)
Video resolution @ frame rate
5.7K @ 30fps
4K @ 30/60fps
Video Bitrate
120Mbps
Photo modes
Standard panoramic photo, Interval Photo, DNG8, AEB
Video modes
Standard panoramic video, Timelapse
Image format
JPG / DNG
Video format
MP4
Audio output
AAC (16 bit/Quadraphonic/48 KHz)
Charging port
USB-C
Battery capacity
1600mAh
Dimensions
71.5x82.7x26.6 mm
Weight
189g (without battery)
Water and Dust Resistant
IP68 Waterproof
Touch screen
1.9''
Gyroscope
6-axis gyroscope
Microphone
4
Speaker
1
Wi-Fi
2.4 GHz/5 GHz
802.11a/b/g/n/ac
Bluetooth
BLE 4.2
Storage
Have no built-in memory and support microSD card storage
MicroSD cards
Support microSD cards with a speed class of UHS-I V30 or higher, up to 256 GB
File system: exFAT
Ambient temperature for working
0°C-40°C
Ambient temperature for charging
5°C-40°C
Charging voltage and current
5V/2A