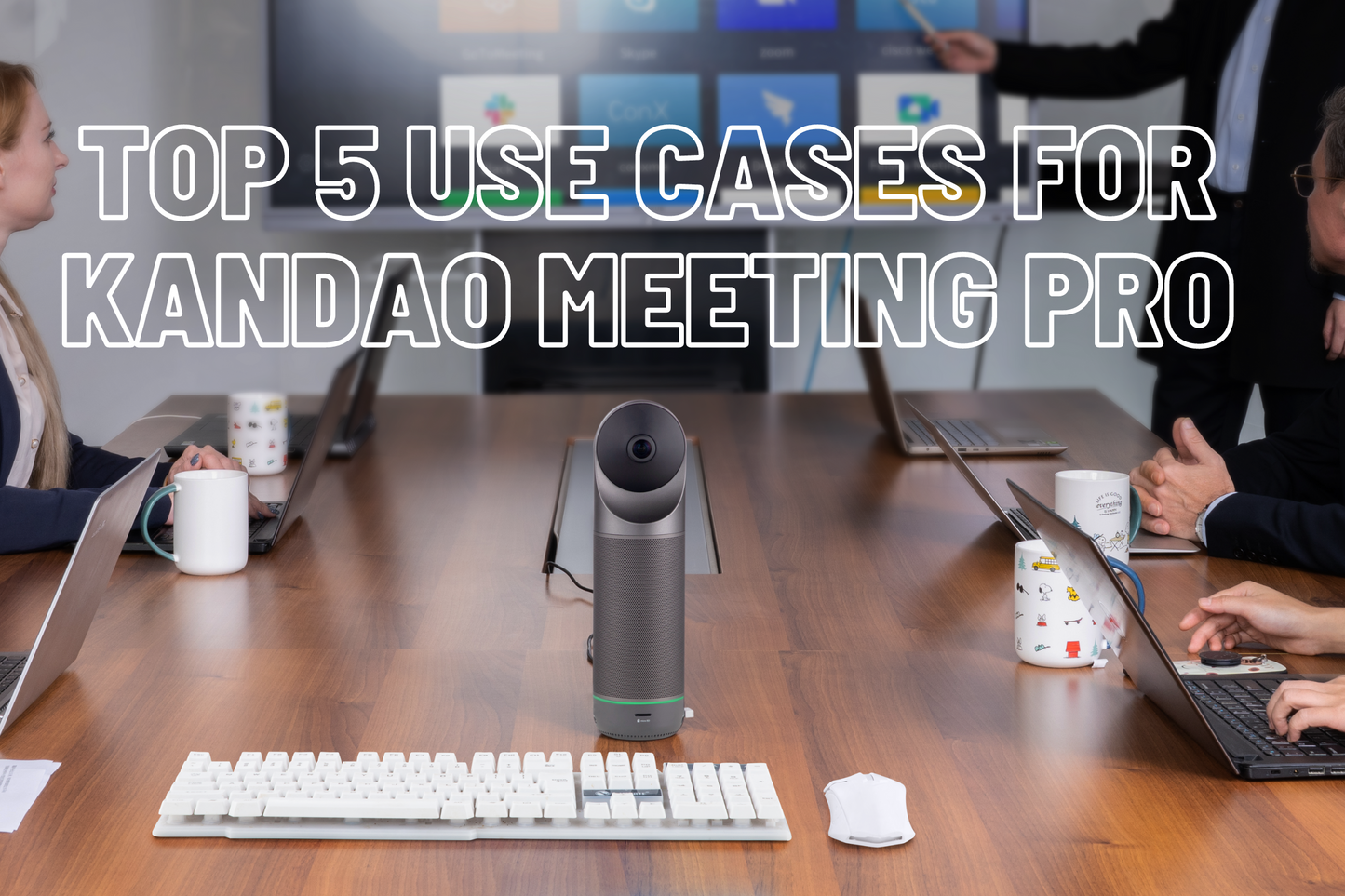 In today's world, remote communication has become increasingly important for businesses and educational institutions alike. However, traditional video conferencing systems often lack the ability to provide a truly immersive and collaborative experience. This is where the Kandao Meeting Pro comes in, offering a comprehensive solution to bridge the gap between remote communication and in-person interaction.
The Kandao Meeting Pro is a 360 conferencing device with a built-in mic, two fisheye 195-degree cameras, and a built-in Android OS. This device offers a range of features to enhance communication, collaboration, and productivity in a variety of settings, from enterprise businesses to classrooms to sales reps and consultants travelling to client sites.
The Meeting AI merges both audio and motion to determine active speakers in the room and highlights them in two person and four person discussing modes with a 360 view on the top. Global mode allows for two 180 degree views from each of the two fisheye lenses and presentation mode will track any speaker as they speak and move around in the room.
Here's the Top 5 Uses cases for a 360 conferencing device:
Hybrid Meeting Rooms
For enterprise businesses, the Kandao Meeting Pro offers high-definition video and audio quality, a 360-degree view to ensure everyone can be seen and heard, and integration with popular video conferencing software like Zoom, Microsoft Teams, and Google Meet.
Companies like Google and Mastercard are using the Kandao Meeting Pro in new hybrid meeting room concepts like the Google Campfire pictured below. These vertical displays for remote attendees interspersed between in-person attendees create a more immersive experience for meetings.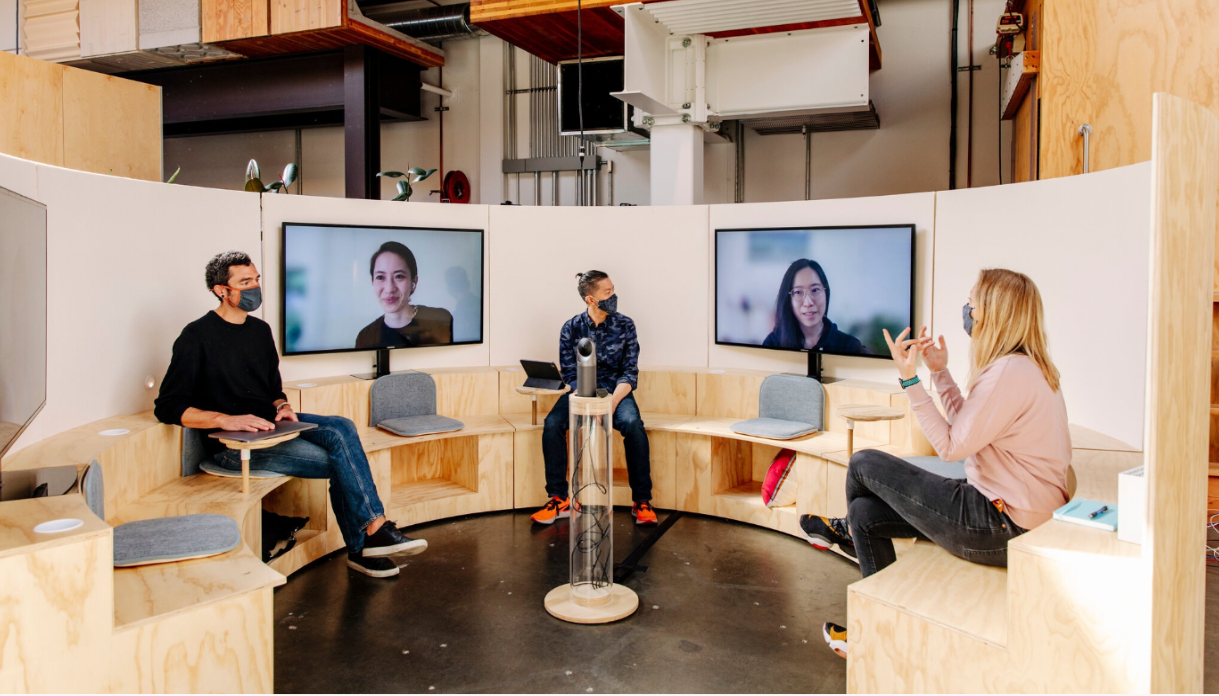 https://www.nytimes.com/2021/04/30/technology/google-back-to-office-workers.html
Mastercard is also using the Kandao Meeting Pro in a setup where displays are situated right underneath the camera. In-person participants are situated around the central console and facing both the camera and remote participants.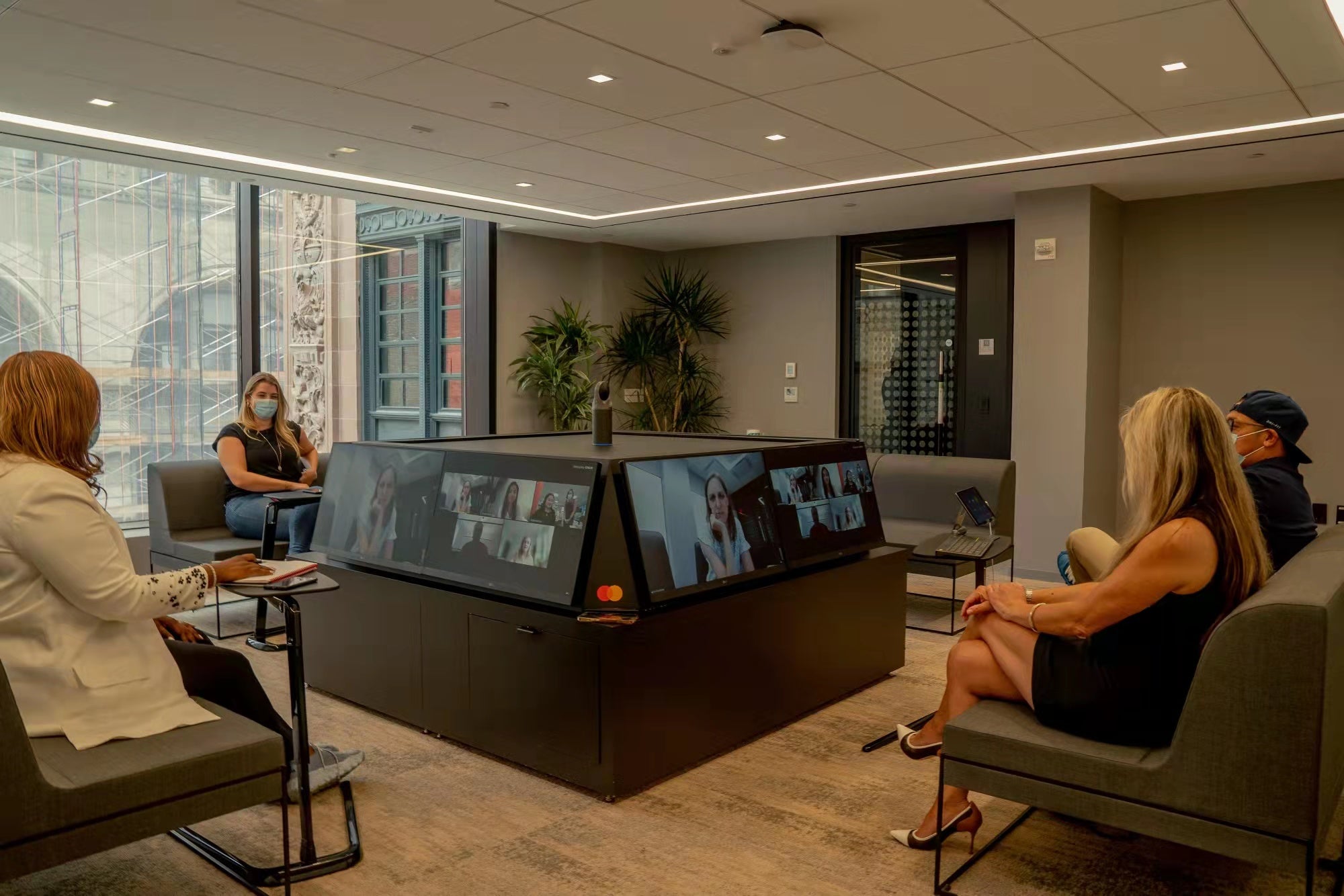 https://www.bloomberg.com/news/articles/2021-08-20/as-covid-lingers-mastercard-revamps-nyc-offices-for-a-new-era#xj4y7vzkg
Classrooms
In the realm of education, the Kandao Meeting Pro provides an immersive 360-degree view to capture the entire classroom and enhance engagement for students. With the rise of distance learning, remote students can feel more connected to their peers and teachers, while engaging more in class discussions and activities.
The Kandao Meeting Pro has a ¼ inch screw hole on the base of the device so that it can be mounted onto a tripod to be set in the middle of the classroom or mounted upside down from the ceiling. The device has software features to invert the image and mirror so that everything will still look right side up for remote attendees.
Huddle Rooms
Many huddle rooms seat 4-6 people on round or square tables in corporate offices. Using a Kandao Meeting Pro will instantly turn any huddle room into a video conference room. Easily set up the device with power and then plug it into any laptop to have a meeting within 2 minutes. The built-in mics will capture every word in-person participants will say and the built-in speakers will make sure remote participants are heard. Compared to traditional video conferencing systems, a 360 device with mics and speakers built in will be a much more cost-effective solution for huddle rooms, especially when it can be used with existing video conferencing software.
Change the view from Global Mode to capture 180 degree views from each camera or discussion modes to highlight either two or four active speakers at a time.
Traveling Sales Reps or Consultants:
For traveling sales reps or consultants, the Kandao Meeting Pro offers a portable and lightweight option for remote communication and collaboration. Take the whole team with you without them having to physically be there. The 360 view allows your team to see everything in the room at the client site, and high-definition video and quality ensure effective communication with your clients.
Large training rooms or board rooms
Need more coverage for larger rooms? Connect up to four Kandao Meeting Pros together using the Kandao Meeting Omni software. The software captures a wider range of images and audio capture, then with the AI algorithm, it renders and produces the best angle for AI face tracking to remote participants. This helps your freely plan your Meeting room layouts and offers the flexibility to easily place cameras around the room depending on your use cases.