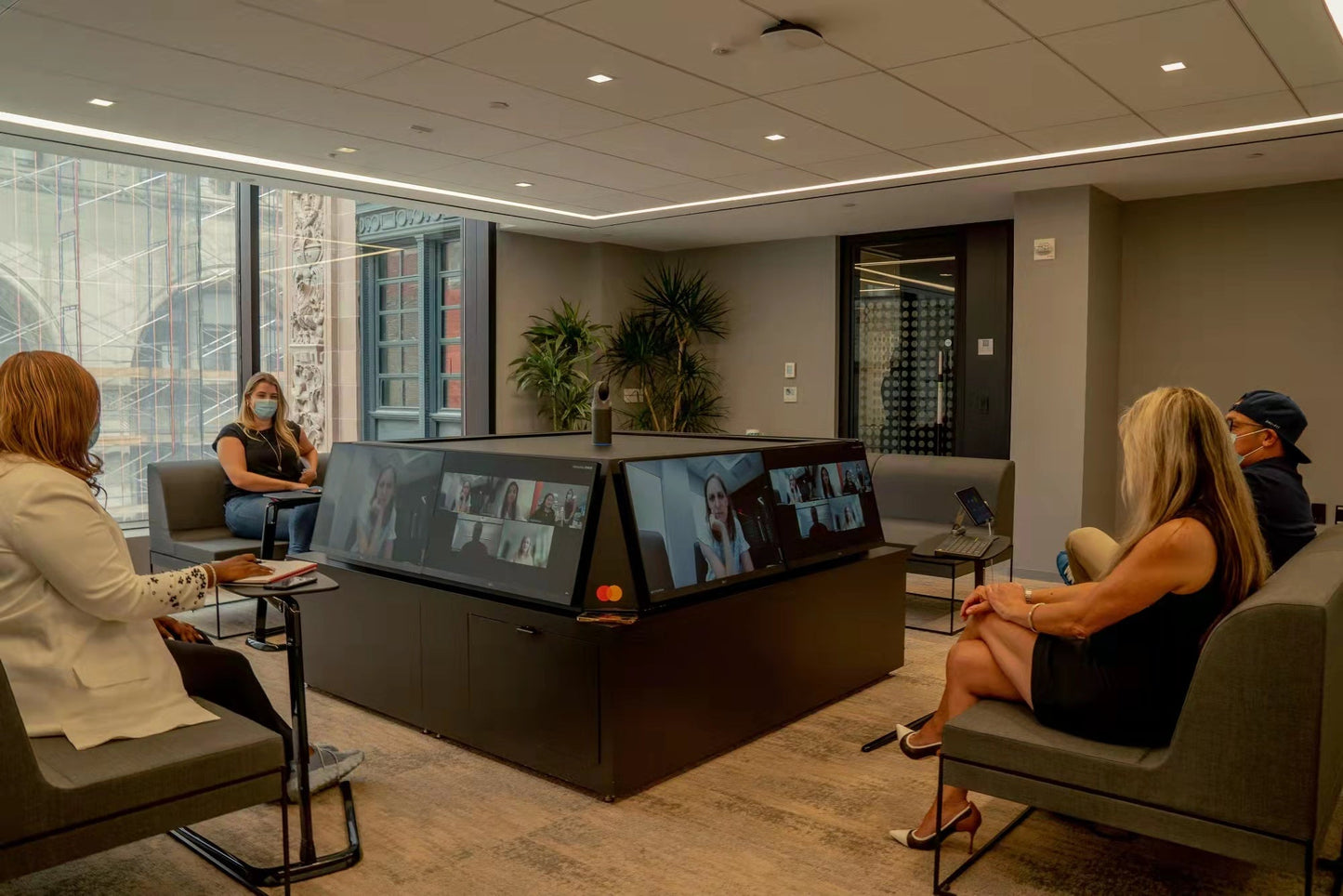 In today's working environment, an increasing number of companies, schools, and organizations have started to test hybrid meetings. Remote work has created a new type of work where employees are no longer limited by their physical location and can stay connected with the team by sending instant messages. However, this communication style is not as efficient as video conferencing. Video conferencing is widely embraced for face-to-face meetings where users can better communicate and collaborate. Seventy to ninety percent of communication is non-verbal and when remote participants can easily see the expressions, actions, and non-verbal cues of speakers in the room, it creates a more immersive working experience.

Given the wide selection of cameras on the market, it may be challenging to decide on the correct device for you, especially when different users have different-sized rooms. In this article, we aim to shed light on the selection criteria to help you choose the best camera for your needs. 
Criteria for selection
1.Image Quality Resolution
Resolution is the level of detail in an image. The higher the resolution, the sharper the image. Most webcam resolutions are 720p (HD) or 1080P (Full HD). If you frequently hold video conference calls, you will want to select a camera that has 1080P for a shaper image. Blurry or grainy images create a poor viewing experience for remote attendees. If the camera has additional features like advanced exposure value and video noise reduction, that will be a great advantage. This will help the camera focus on the speaker without losing picture quality.

Choose a camera with a high resolution video if you can.

Keep in mind that the high-resolution video transmission requires a lot of internet bandwidth. That means you should not use a high-resolution camera if you have poor internet quality.

The 360deg conference cam converts panoramic images into flat videos after cropping at certain angles. This makes it different from other flat video cameras.
2.Camera Placement
As more people attend meetings, the number of cameras and the required angle of viewing will increase. Everyone in the meeting must be represented. Most laptop webcam yield only 60 degree field of vision (FOV) and will not suffice as more people join in the conference room. Furthermore, some single webcams in the front of the room may not have a wide enough FOV to capture everyone in the room, especially those sitting on the sides.

Conferencing cameras that can effortlessly capture everyone in the room must have wide-angle and zoom functions. That way, the camera can be moved around in the room to capture the best viewing angle for remote participants.

You don't have to spend much to retrofit a conference room with a panoramic camera. Because of the wide angle, it can be moved wherever you like. You can place it on a conference table and capture everyone's facial expressions. 
3.Autofocus
A conference camera that automatically focuses on the speaker is needed when there are 5 or more people in a room. This feature allows remote participants to quickly identify the speaker and focus their attention, which ultimately helps create a more personal and intimate group meeting.

Traditional conferencing equipment requires remote control of pan/tilt (PTZ), while others require the use of different voices to identify the speaker. The latest video conferencing equipment uses artificial intelligence to locate the speaker. This technology can not only identify the speaker in the conference room but also create whiteboards or screens for content sharing and highlight speaker's name.
4.Ease of use
Consider the "ease of use" factor when choosing a conference system. Meeting hosts want the best way to conduct video calls. However, most conferencing systems use multiple devices. These include microphones and speakers, cameras, microphones, and remote controls. Multipoint MCU (what is MCU)? controllers are also used. It can take some time to test before you start the official meeting.

An all-in-one video conferencing machine, which combines audio, visual, and speakers, is a huge time saver. All audio and video conferencing devices can work together with just one device. It's easy to forget the tedious task of dialing a number and worrying about tangled cables. Instead, use a video conferencing device to save time and allow you to concentrate on creating your meeting content.

Video conferencing solutions should also be efficient and easy to use. There are many plug-and-play conference cameras, like the Kandao Meeting Pro and Logitech CC2900EP. Unlike conference cameras that require drivers or software to run, these cameras can be set up and used in minutes. This camera connects to your computer's USB port within seconds. It works with all video conferencing software, including Zoom, Skype for Business or Microsoft Teams, Zoom, and Google Hangouts. This flexibility is great for small businesses and start-up teams using different video conferencing platforms. To start a meeting, simply place the conferencing device on a table and plug the device into your computer, then select Kandao Meeting Pro as the microphone, camera, and speaker.

Finally, we will provide three recommendations for web conferencing cameras that can guide selecting the right camera to fit your company's needs.
Recommended Products
To avoid purchasing products that are not suitable for your needs, excessive waste or poor experiences, it is important to first establish your use scenarios. Then, evaluate the price-performance ratio. It will tell you if the price meets your requirements. In many cases, products' prices will drop significantly during promotions. It is possible to consider purchasing it if the price falls within your budget.

1.Logitech/Logitech HD Audio and Video Conferencing Webcam CC4000e
The CC4000e has a high-end configuration, 4K resolution, and 120deg field view. It also features 3 microphones and exceptionally strong performance. The camera is also equipped with a mobile application that allows remote control of the camera. This is the first such feature on the camera.

The Logitech flagship model is the C1000e. The C1000e is the most popular configuration. It has a 4K resolution. It supports 1080P 60fps recording, which is rare in the industry, and can shoot ultra-high-definition videos. Windows Hello is compatible with the C1000e's infrared facial recognition, which makes it safer and more reliable to log into your computer. You should note that 4K video transmissions require very high bandwidth and cannot be achieved by standard home networks. C1000e is best suited for professionals who need to record professional videos. Logitech's CC3500e video conferencing device is designed for large and medium-sized conferences. The lens can be rotated horizontally as well vertically. It also supports 10x lossless Zoom. It can capture clearly from any corner. The microphone can pick up to 6 meters. The microphone is available for purchase.

2.aoni A30
The aoni A30 may be an excellent choice if you're looking for wide-angle photography.

aoni A30 supports 1080P &30FPS Video Recording. In particular, it supports a horizontal 90° wide angle, a wider and more detailed field of view. 0.7s is also available to complete the AF focusing system. Overall, the hardware parameters are very high for the entry-level price.

3.Kandao meeting Pro 360°Panoramic conference camera
This is perhaps the most powerful camera to deliver the in-person video conferencing experience. AI-Based 360deg Standalone Camera for Conferences.

Kandao Meeting Pro may be used alone as a video conference terminal. There is no need to connect an external computer. You can easily initiate a meeting by connecting the HDMI screen. Kandao Meeting Pro has an embedded Android system for video conferencing. This can be installed and used immediately.

High-fidelity speaker, omnidirectional microphone, and 360deg (conference) 4K cameras without blind spots. (Complex) Optimized positioning algorithms are used to provide accurate and efficient tracking of active speakers.

In discussion mode, the camera will initially focus on the speaker, then zoom in and show the head and shoulders. The speaker features four windows offering 360-degree views.

Global mode splits the panoramic view and focuses only on the current speaker. The presentation mode is focused on the speaker. The patrol mode allows the presenter to be always highlighted while the rest of the screen shows a rotating view of a room.

Summarize
Overall, you must have a comfortable and suitable web meeting with your company using a webcam. Web conferencing allows for communication within and outside of the company. However, if your camera quality is poor, it can make it difficult to communicate with other people in the meeting rooms and (equipment) on the other end.