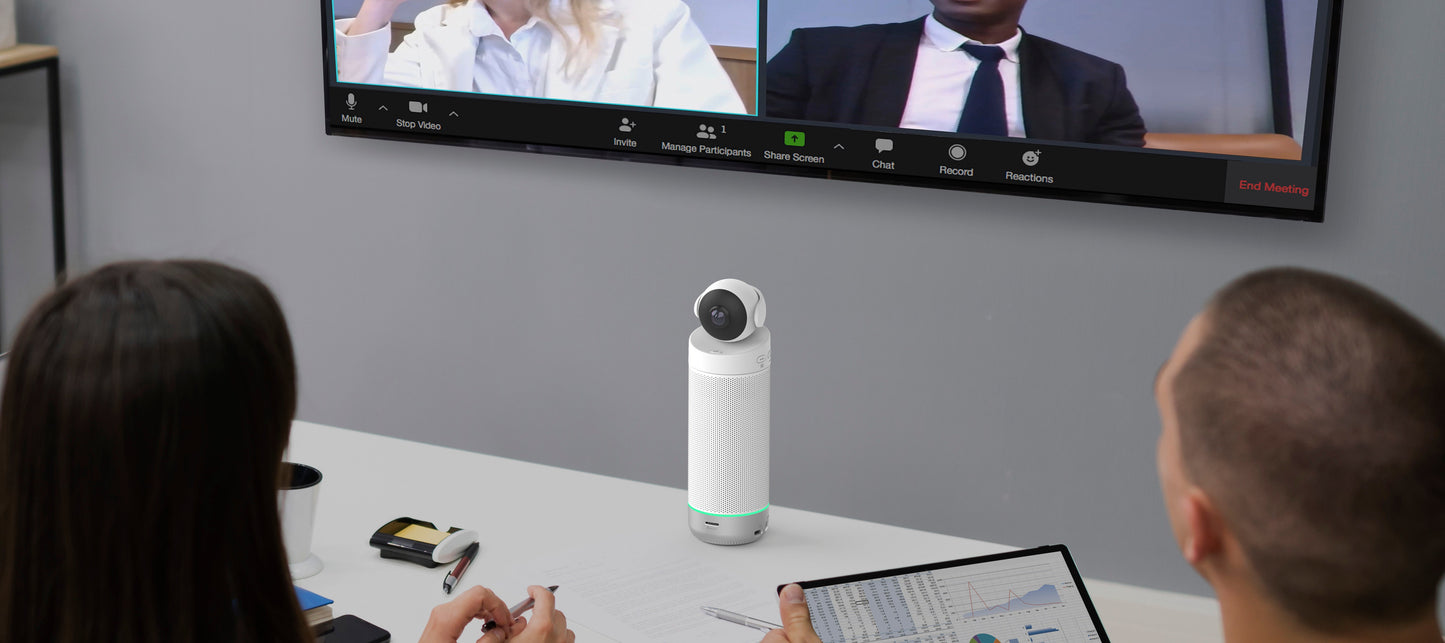 Over the last several years, everyone in America has probably experienced their share of virtual meeting glitches and bugs. From simple problems with audio and video devices to screen-sharing difficulties and much more. For many businesses, the success of their company depends on the success of their video conferencing exchanges, yet their current setup has not evolved to keep up. Fortunately, in the last couple of years, VR and 3D imaging company Kandao has developed a remarkable line of award-winning 180° and 360° cameras that make video conferences feel as natural to your remote attendees as if they were in the room with you.
Kandao Meeting Cameras
Kandao's video conferencing cameras, which aren't much larger than a bottle of water, are designed to sit in the middle of your conference table and serve as a hub for all video and audio communications. Their complete view of the room enables them to clearly see everyone in attendance, and their smart tracking features allow them to highlight the speaker currently presenting, while also showing a close-up view of the other attendees. An array of microphones pointing in all directions ensure that everyone can be heard, no matter where they're sitting.
Kandao ships two variants of their Meeting cameras. The entry-level Meeting S contains a single 180° lens and is ideal for small meeting rooms with around 5 people. The Meeting Pro contains two lenses to cover a full 360°, which makes it suitable for up to 10 or more people in larger meeting rooms.
Android Built-In
The key difference that separates the Kandao Meeting S and Meeting Pro cameras from their competition is that Kandao cameras ship with their own Android operating system pre-installed. This lets them be used as independent video conferencing terminals, eliminating the need for a secondary laptop or computer to run the meeting. One only needs to connect their Kandao camera to their meeting room's TV or projector via HDMI, and then the camera can be controlled using the included remote. Airplay and Miracast support enable screen mirroring from Apple, Windows, iOS, and Android devices.
Advanced AI Tracking
Another clear advantage of Kandao cameras is their state-of-the-art 2-in-1 AI tracking technology. They combine their 180°/360° high-definition view of the room with crystal clear audio obtained from their set of 8 omnidirectional microphones. This system can identify the active speaker with outstanding speed and accuracy, free of the errors that can plague other tracking systems that use only video.
View Modes
The Kando comes with a number of preset viewing modes that can be set using the remote control. From focusing on just one speaker, to showing a panorama of the entire room, there's a mode to meet the needs of every meeting. You can even create your own custom modes by zooming in and locking the frame in a location of interest, such as a whiteboard or product demonstration.
Other Features
Kandao meeting cameras come with all the standard features one would expect of a premium video conferencing camera:
– SD Card slot for recording meetings
– Wi-Fi and Ethernet connections
– USB A slot for connecting external mice and keyboards
– Industry-leading data security practices
– Lens cap for privacy

Award Winning Excellence
Kandao cameras have been frequently praised for their design and innovation. The company's Meeting S and Meeting Pro line of video conference cameras was graced with a 2021 CES Innovation Award, a 2021 reddot Design Award and an iF Design Award.

Further Information about Kandao Video Conference Camera:
About Kandao Technology
Kandao is a virtual reality research and technology manufacturer that provides innovative imaging solutions to make it easier for people to move from the physical world to the digital one. A pioneer in the field of VR technology, high-definition video, and conferencing cameras, Kandao's products feature streamlined designs and best-in-class security. Founded in 2016, the company has already won several awards in recent years, including a CES Best of Innovation Award in the digital imaging category.