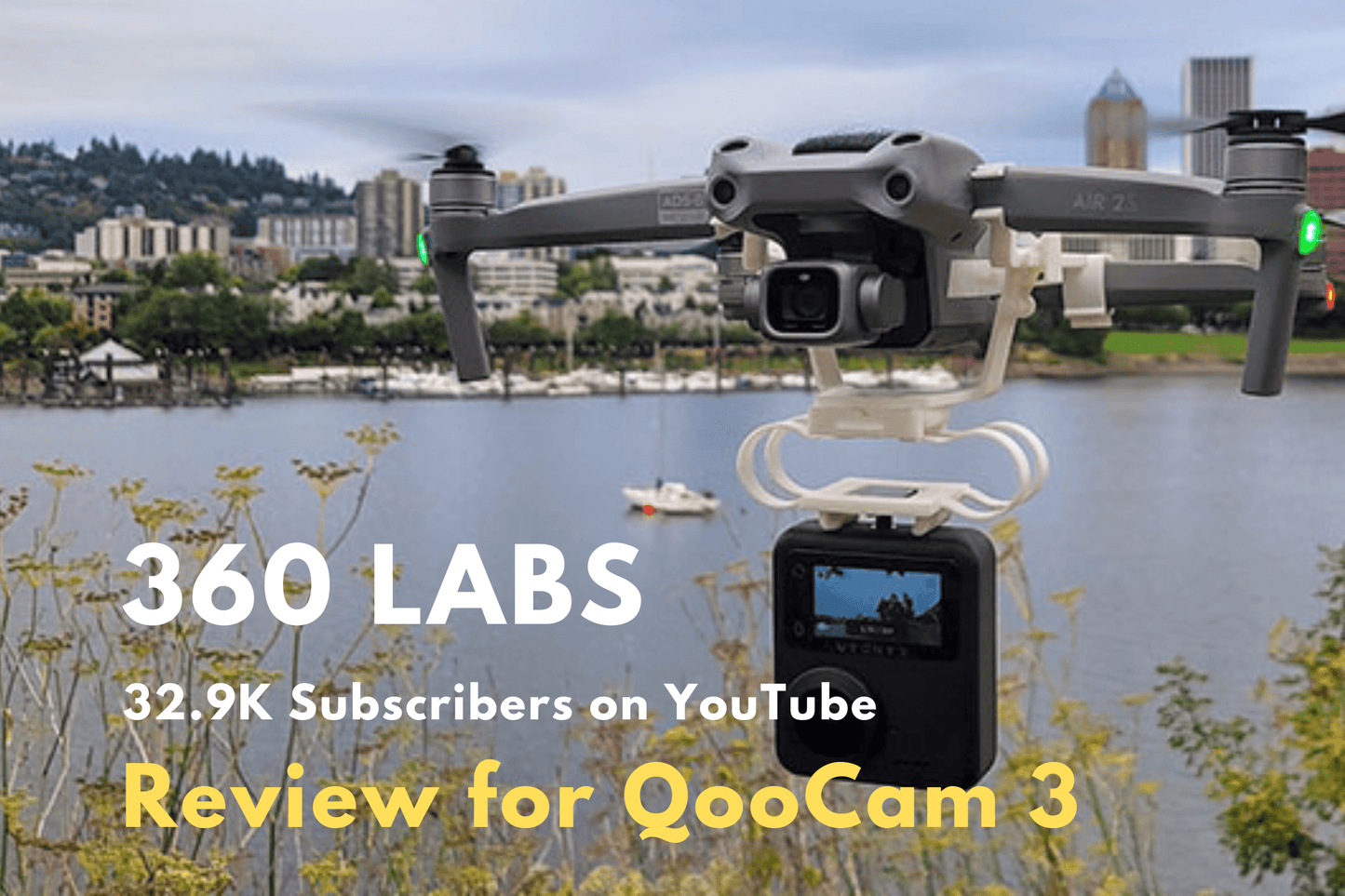 Kandao teased 2 new compact 360 cameras several months ago, the Qoocam 3 and the Qoocam Ultra. Today, the Qoocam 3 has become a reality and we've gotten our hands on one to test out. The launch of the Qoocam 8K was definitely rocky, leaving a lot of people with buyer's remorse due to lens calibration QA issues and bulging batteries. Has Kandao learned from those mistakes? Let's find out!
Highlights
The Qoocam 3 is a departure from previous form factors, it's very similar to the GoPro MAX with a square body. Kandao boasts a larger 1/1.55 sensor with a fixed F1.6 aperture for performance in low light. Unlike it's predecessor, the battery in the Qoocam 3 is removable.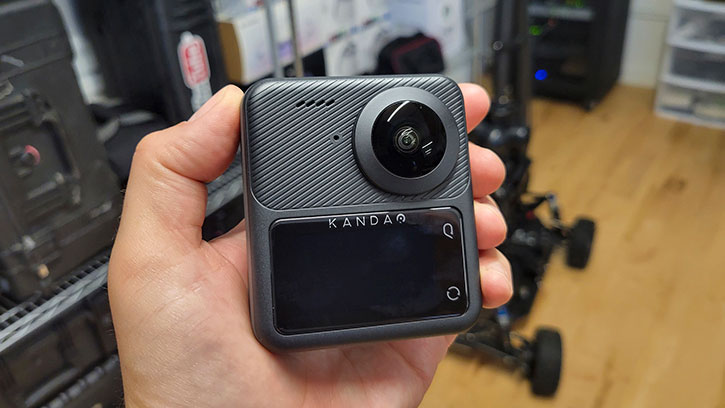 Resolution has taken a step back to 5.7K, but that's likely because it's easier for consumer users to work with, and 8K is likely planned for the "pro" version of this product that will be coming out later this year. But the Qoocam 3 makes up for this with added features like 4-channel ambisonic audio, 64mp photos, and IP68 waterproofing.
And it retails for only $349. Not bad!
More Rugged and Ready for the Outdoors
One of my complaints about the Kandao Qoocam 8K was it's total lack of any waterproofing. 360 cameras are all about capturing amazing experiences, and that's hard to do if you are afraid to get it wet or dirty. The Qoocam 3 answers this with an IP68 rating, submersible up to 33 feet without a dive housing. That said, we never advise using cameras like this underwater for extended periods of time without some kind of dive case, especially not in saltwater. Even a tiny grain of sand on the battery door can breach your water-tight seal and allow water to get in. For uses like kiteboarding, surfing, and whitewater rafting where the camera can be splashed or submerged temporarily, IP68 gives great peace of mind.
The Qoocam 3 also doesn't have a loud fan like it's predecessor, it operates quietly but still keeps it's cool. In a stress test in our office, the camera went for a full 1 hour on battery without overheating. In fact, the camera body didn't even really feel hot to the touch.
As with any 360 camera, the fisheye lenses can be vulnerable to scratches and scuffs. The Qoocam 3 has lens caps similar to the GoPro MAX, so we also assume that snap-on lens guards might be an accessory option to help keep them protected.
Another thing we noticed was that the camera seems to handle sun glare very well. With testing in direct sunlight, we're not seeing the distracting red dots that are often evident with Insta360's cameras, and especially awful with the Insta360 1-inch.
Weight & Feel
The Qoocam 3 is quite heavy for it's size. It weighed in at 222g on our scale, just 6g less than the Qoocam 8K. By comparison, the Insta360 One X3 is 176g, and the GoPro MAX is only 156g. Qoocam 3 might be a bit on the heavy side as an action cam, and you'll want to be careful if mounting it to a drone.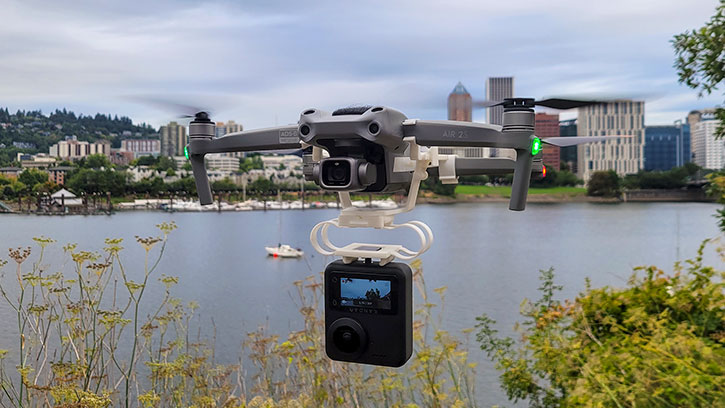 There's a single door on the side to access the battery, memory card, and USB-C port. It seems solid and sturdy, with a good sized seal to keep water out, but it lacks a lock to let you know it's definitely shut all the way. It's pretty annoying to insert or remove the memory card, due to how far inset the slot is from the camera body. The camera body itself has a bit of a rubberized feel to it, similar to the GoPro MAX.
There are 2 buttons on top of the camera, one for recording and another for power. You'll change most of the settings with the 1.9 inch touch screen. The touch screen has an integrated programmable Q button (by default it locks the screen), and a button for changing the view from front lens to the back lens. Unlike the Qoocam 8K, you cannot tap and drag the 360 view to look around at your scene, you have to tap a button to change the view. Dragging a 360 view on such a small screen was kind of difficult anyway, so I can see why they didn't bother with keeping that feature.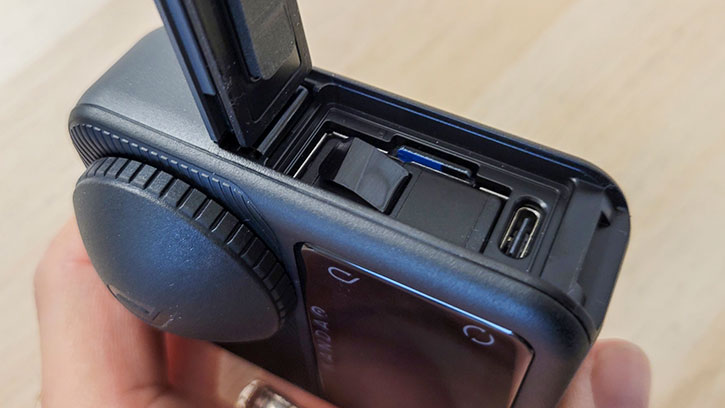 Power & Battery Life
Thankfully, Kandao chose to go with a removable battery on the Qoocam 3. Many users had problems with the Qoocam 8K's internal battery swelling up from the inside and breaking the camera's outer casing open. A permanently installed lithium battery can also be a serious fire hazard as the battery ages.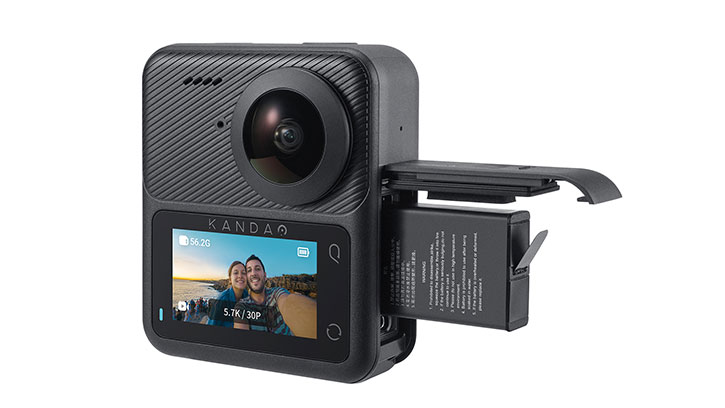 The battery life is about an hour while recording in 5.7K, as advertised. I was pleasantly surprised to see that recording stopped automatically when the camera became very low on battery, saving the recording from becoming corrupt and losing my shot. We got a single continuous 5.7K recording at 55 minutes and 11 seconds on a full battery, and the camera was a little warm to the touch but didn't appear to be anywhere near overheating.
Unlike some Insta360 cameras, the Qoocam 3 can record continuously without dropping frames or missing any of the action. It records long takes in 5 minute segments, and the clips are joined together with Qoocam Studio or the Qoocam 3 app. For recording even longer sessions, an external USB battery pack can be used. The internal battery can be removed if plugged into USB power, which should generate less heat.
How Good is it in Low Light?
The Qoocam 3 features a 1/1.55-inch sensor with a fixed F1.6 aperture, an upgrade in size to Qoocam 8K's 1/1.7-inch sensor with a fixed F2.0. This makes it ideal for low-light situations, even when compared to Insta360's 1-inch 360 edition, we found more details in low light shots due to the F1.6 aperture. The difference when compared to Qoocam 8K is significant, so much detail is brought out in the dark areas.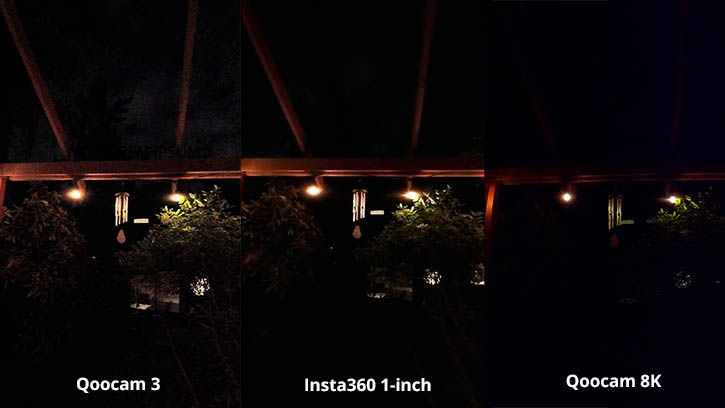 This test was shot on ISO 1600 with shutter at 1/30 on each camera. The only light source was rope lights on my pergola in the backyard. I was very surprised to see the clouds and trees in the background are visible with the Qoocam 3, but not with the 1-inch. You can also notice a lot more detail in the bushes. That F1.6 aperture really helps to let light in.
Available Shooting Modes
360 Video can be captured in 5.7K at 30fps, or 4K at 60 or 30fps. Photo modes offer 16mp or 62mp options as DNG or JPEG. A DNG8 mode is offered as well for cleaner noise-free images.
Bracketing (AEB) modes are offered from 3 to 9 shots with EV steps from 0.3 up to 1.7 stops. However, EV steps are limited based on how many shots you choose. With 9 brackets, 0.3 is the most you can go, for example. Currently there's not an automated shooting mode that combines brackets, you'll need to do that in post with your HDR software of choice.
Time-lapse modes are now offered in both time-lapse video, and interval mode. The interval mode will take photos at the set interval, and the time-lapse mode will automatically create a video file up to 5.7K. Interval mode affords you the opportunity for more dynamic range with DNG raw and much higher resolution, although at this time only the JPEG files are written at 62mp. The 62mp JPEG photos stitched together are 11,136 x 5,568, so you can create an 11K time-lapse using interval mode. You can also disable the "fake shutter" clicking sound by turning the camera sounds off, and disable the indicator light if you don't want to risk light pollution at night.
Video Codec & Options
The camera records at around 60mbps H.264 in 2 separate files that will be stitched together in post using their Qoocam Studio app, desktop software, or third party stitching software if you'd rather go that route. A side-car proxy file is created with each recording at 960x480 with both fisheyes in the same container. My assumption is that the proxies are used for the mobile application editing or preview, as they are much too small to be very useful for desktop editors. They don't seem to be used by the Qoocam Studio desktop app at all.
The 5.7k mode creates a 2880x2880 1:1 aspect ratio file, whereas the 4K 60fps mode comes out in a 2880x1440 squished container and is corrected in Kandao's software.
Unfortunately, 10bit recording is not an option as of now, but it may be available on the "Ultra" version of this camera that will be released later.
While in video or photo mode, full manual options are available to set white balance and shutter. While in audio mode, EV compensation can be set from -2.0 up to +2.0. White balance can be set from 2500K to 8000K in increments of 100, which is an improvement over the Qoocam 8K that only had 5 possible options and auto. The camera seems to over expose the highlights at times, so shooting at -0.3EV or -0.7EV can help alleviate that. The white balance is also a bit punchy, we find the colors in the sky on a daylight balance to be a bit turquoise. Hopefully they will continue to work on accurate color science with future updates.
Unfortunately, there are no options to control color such as log or vivid modes. In-camera sharpening is also pretty aggressive, and there is currently no option to adjust the level of sharpening at the time.
Audio
The Qoocam 3 is Kandao's first compact camera to offer 4-channel ambisonic recording. Competitor's like GoPro MAX and the Insta360 One X3 have the capability to record that spatial audio as well, but there's no options within the apps to export the video with an ambisonic track.
The onboard audio seems to be a decent improvement over the Qoocam 8K, but of course you will still want an external mic for the best possible quality. Unfortunately there are no mic gain options available or any audio settings at all for that matter, you get what you get. For an onboard mic, it's decent.
There are no ports for external microphones or headphone ports for monitoring.
Apps & Post Production Workflow
Kandao has desktop apps for Mac and Windows, and mobile apps for Android and iOS. All of their apps are free to use, with no subscription fee or registration required.
The Qoocam Studio desktop app allows you to stitch your photos and videos, and export full 360 or reframed standard videos in various aspect ratios for social media and video sites. Export options allow for H.264, H.265 and ProRes. A lot of Insta360 users complain that the desktop app doesn't offer reframing options like the mobile app, but Kandao offers much of the same functionality for those who prefer to edit on a desktop instead of a mobile device. One missing feature is the ability to combine multiple clips on a timeline or add music and titles, you will still need to use a 3rd party editing software to do that.
A lot of the same features we already know from Qoocam 8K are still there, such as optical flow stitching and stabilization that allows you to choose "view lock" or simply make the horizon steady. This horizon only stabilization option is a must if the camera is mounted to a vehicle and you want to keep the action pointed in the right direction. Kandao's stabilization is still not quite as good as Insta360, we find that our horizon can tend to wander with drone and vehicle mounted shots.
Another big update here is the ability to export 4-channel ambisonic audio with your video. This is an edge over both GoPro MAX and Insta350 X2/X3. Those cameras have the capability to record in 4-channel ambisonic, but their software has no option to export it.
The mobile app has some features that are not found on desktop, such as "smart track," which allows you to select a point for reframing to track and keep your subject in the center of the action. You can also add music (very limited options), and optionally mute the camera audio if desired. You can change the speed of playback up to 32x the original, and apply effect filters if that's your thing.
And of course the mobile app allows for control of your camera and live monitoring in 360, equirectangular, or little planet mode. By default, they have 3 options for camera shooting modes on the home screen. You can customize this by choosing which modes you want readily available. The app also analyzes your phone's codec performance to determine the maximum video and photo resolution you will be able to export. You can also display a histogram to check your exposure levels, and geo-tag images or videos using your phone's location data.
Sample Footage
We haven't had the camera long, so I hope to spend more time with it and update this review with my findings. We've gathered some samples here shot on a drone and on vehicle mounts, in various lighting conditions. Post production is very minimal, I replaced the sky to remove the drone but otherwise the clips are untouched and pretty much directly out of the camera. Most of these shots, with the exception of the low light aerials, were shot in auto to test for how the camera meters exposure and handles color. Qoocam Studio was used for stitching and export.
For the best results, I would suggest viewing it within the YouTube app instead of watching through the embed.
Conclusion
It's clear to me that Kandao learned a lot of lessons from the launch of the Qoocam 8K and the many problems they encountered. The Qoocam 3 feels more like a completed product that is tested and ready for use. But with a resolution of only 5.7K and no available 10bit option, it might already be falling behind the next generation of 360 cams. Those features may come with the more robust Qoocam Ultra that is soon to be released, but we haven't heard anything about a price point as of yet.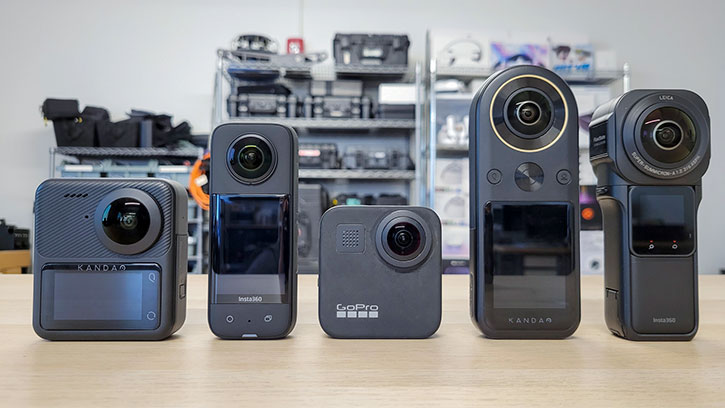 At only $349, the Qoocam 3 delivers a very affordable value. It's cons are definitely not insurmountable. In many ways, it's comparable to the $799 Insta360 RS 1-inch. Although some of it's features may not be as robust at some competing products like those from Insta360, the Qoocam 3 seems to be very reliable and solid, but time will tell. To buy, you can get it direct from Kandao.
Pros
Cons
Only $349
Amazing at low-light
Spatial audio ready
DNG time-lapses at 11K
IP68 waterproofing
No loud fan, didn't overheat
Continuous recording with no gaps
Stabilization not as good as Insta360
No LOG mode, no 10 bit
Aggressive sharpening, no option to change
Only 5.7K
Color science is not great
View original content: https://360labs.net/blog/first-look-review-qoocam-3