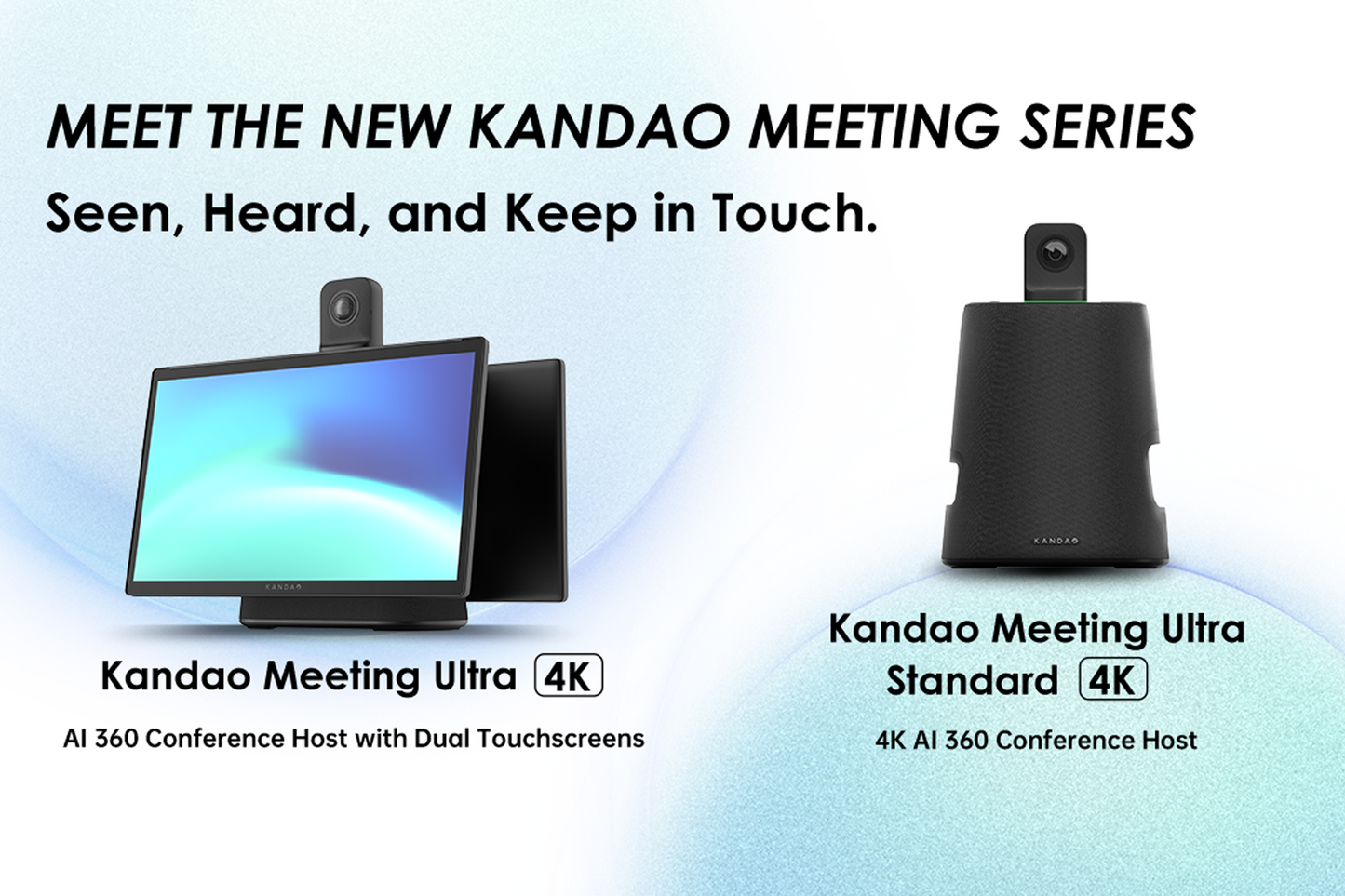 We are thrilled to announce the release of the Kandao Meeting Ultra and Meeting Ultra Standard, Kandao's latest 360 conferencing devices, which represents a significant step forward in hybrid meeting technology. The Kandao Meeting Ultra is a first-of-its-kind, all-in-one AI conference device with dual FHD touchscreen, delivering an ultimate solution for inclusive hybrid meetings. The Meeting Ultra Standard is a screen-less version released together with the Kandao Meeting Ultra.
Designed by Kandao's product and engineering teams, with cutting-edge AI algorithm and powerful hardware, the Kandao Meeting Ultra supports more immersive and inclusive hybrid collaborations where participants can have face-to-face eye contact, get visual cues, and participate in the conversation in real-time.
"As the world moves towards hybrid work, it's critical that companies invest in technology that enables meaningful collaboration and inclusive communication for all participants, whether they're in the same room or remote. At Kandao Tech, we believe that hybrid work is not just a temporary trend but a long-term reality that requires deliberate and thoughtful consideration from companies. The Kandao Meeting Ultra and Meeting Ultra Standard were designed with this in mind, providing the ultimate solution for hybrid meetings. We're excited to offer companies the tools they need to foster innovation and success in the hybrid work era," said Dan Chen, CEO of Kandao Tech.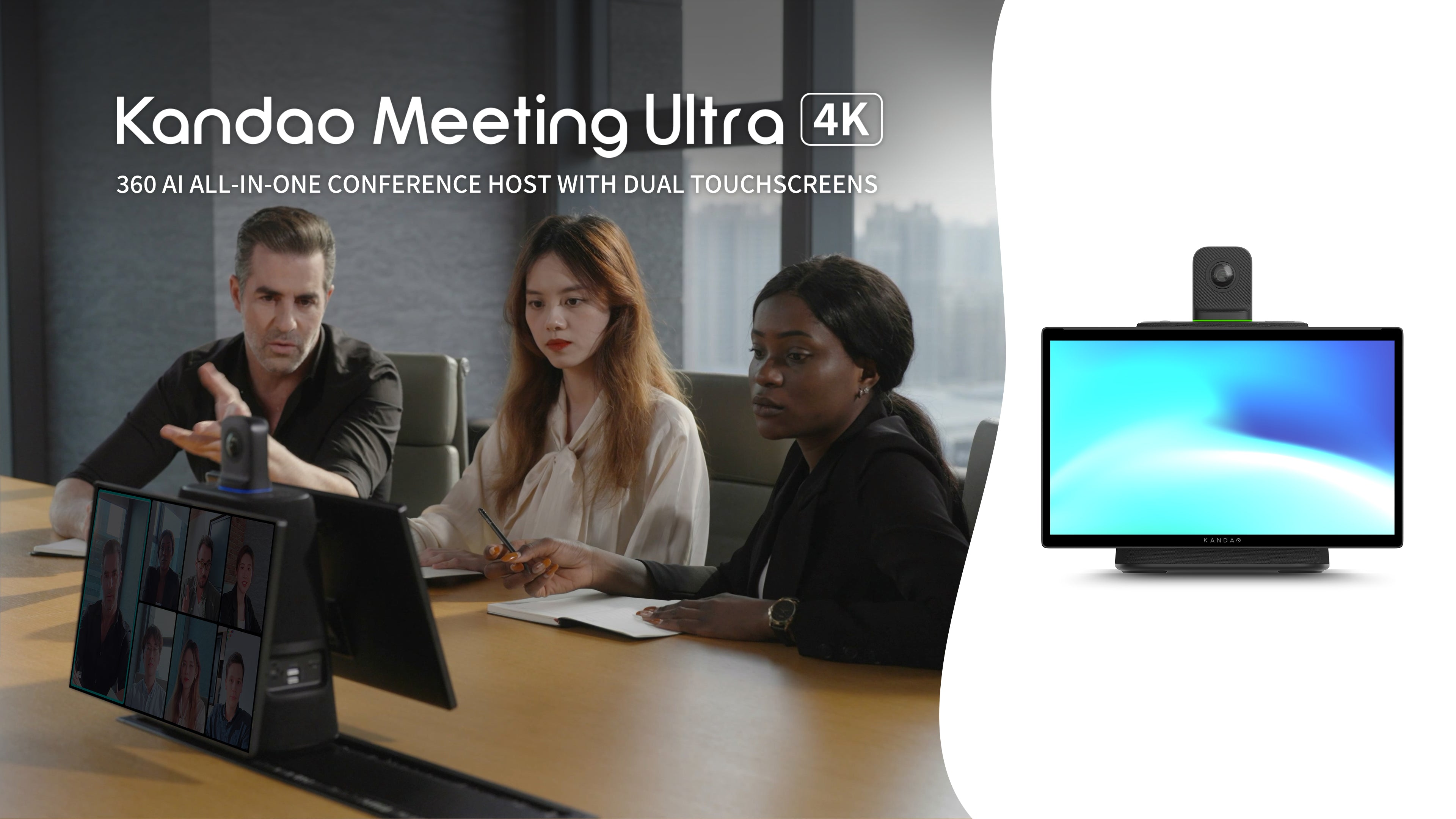 Kandao Meeting Ultra & Meeting Ultra Standard Features:
Ultra-Clear 4K Video with HDR: The Kandao Meeting Ultra delivers stunning visuals that make remote attendees feel like they're in the same room as local colleagues with its 360-degree panoramic camera that captures 4K 30FPS HDR video, eliminating over-exposed images even when conferencing near windows.
AI Smart Face Detection & Tracking: The upgraded AI Algorithm 4.0 in the Kandao Meeting Ultra accurately localize and auto-frames the local meeting attendees, ensuring that everyone in the meeting can be seen and heard clearly.
High-Quality Audio: The full-duplex audio system, composed of an eight-omnidirectional microphone array and a 10 Watt Hi-Fi speaker, ensures a wide 5-meter-radius voice pickup range and premium sound quality output, conveying clear messages in remote meetings.
Built-in Android OS & Touch Control: The Kandao Meeting Ultra has two FHD displays and 10-point capacitive touch, which can be presented in high-definition and touch-controlled. The built-in Android system allows users to download video conferencing software directly onto the device, creating a perfect solution for hybrid collaboration.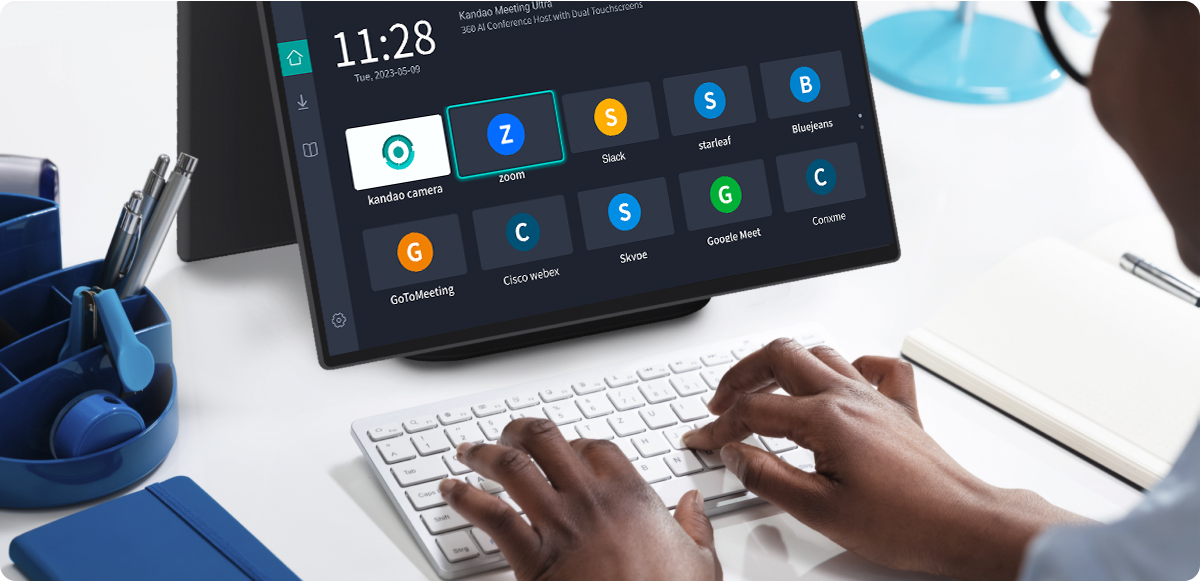 Flexible and Customized Conference Views: The Kandao Meeting Ultra has three discussion modes for multi-attendee framing, main-speaker focusing, and all-attendee displaying. It can automatically adjust the view according to the detected number of attendees, and the panorama on top is optional for showing all attendees. You can highlight a specified speaker by manually dragging to the main split-screen and zooming in after view-locking.
Easy Screen Sharing: There are two options to easily share your screen during a meeting: using an HDMI cable or sharing through Miracast or Airplay screen sharing features from iOS devices, Mac OS devices, Android devices, or Windows-system devices. Users can extend views using the two HDMI OUT ports to connect two external screens so that everyone can see even in large spaces.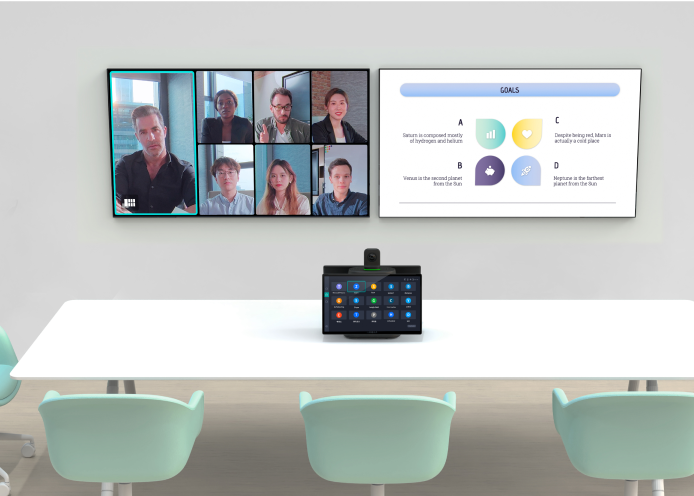 Real-time Feedback: Kandao Meeting Ultra takes a huge step forward to achieve seamless hybrid collaboration with an 8-core CPU, 4-core GPU, and 6-Tops NPU hardware, achieving stable transmission, precise human face and voice detection, and low-latency tracking.
Learn more about Kandao Meeting Ultra & Meeting Ultra Standard
The Kandao Meeting Ultra and Meeting Ultra Standard are now available for purchase in the U.S. on kandao.us.com. The Kandao Meeting Ultra is the best option to be used as a standalone product, especially in places where screens are not available, such as meeting pods. On the other hand, the Meeting Ultra Standard is better suited for those who prefer to use it as a USB peripheral.