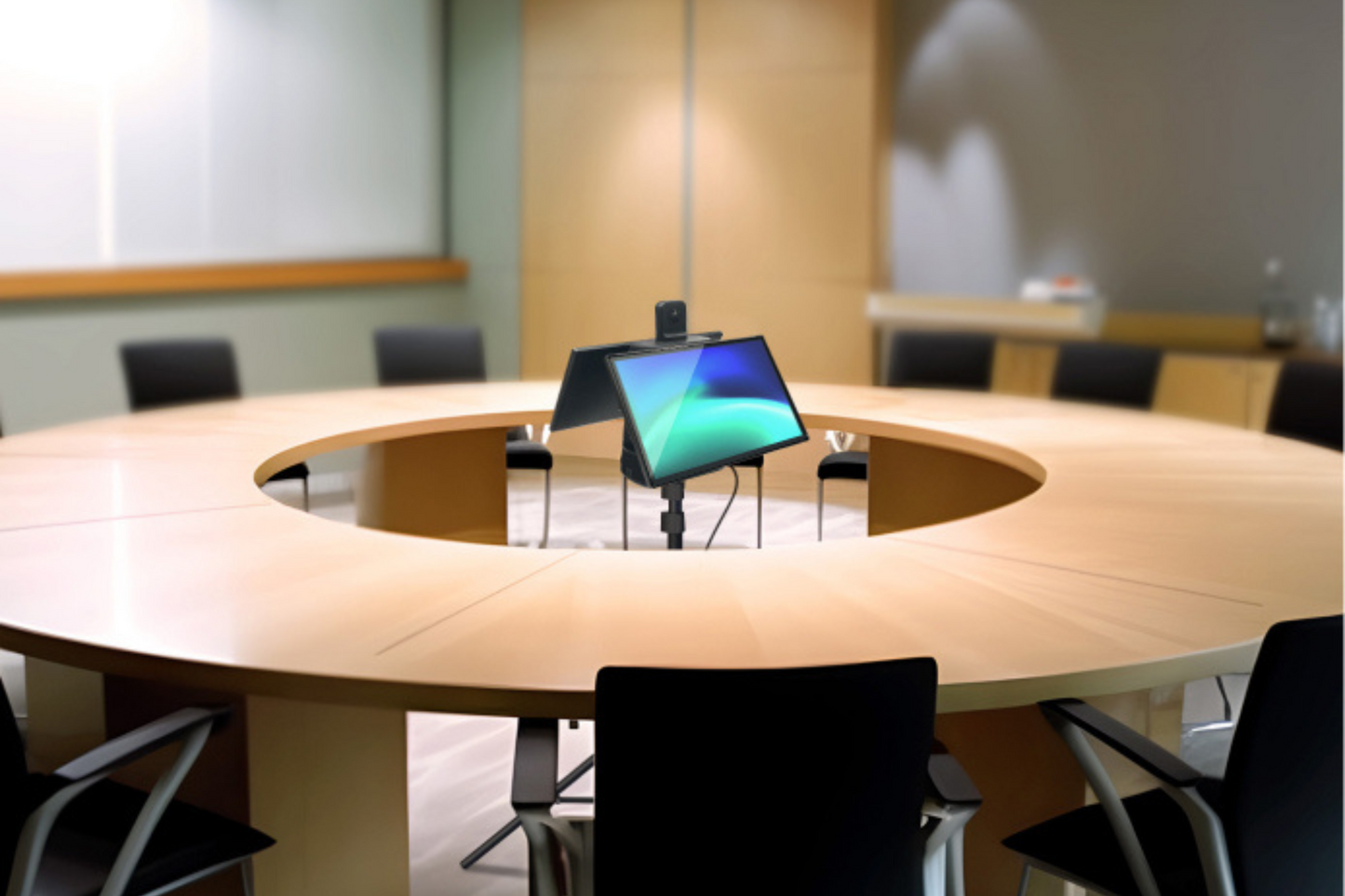 With the rise of remote work, video conferencing has become an essential tool for businesses to stay connected with their teams and clients. However, not all video-conferencing devices are created equal, and some fall short when it comes to providing a truly immersive experience. That's where Kandao Meeting Ultra shines. It sets a new standard for 360 video conferencing and offers a range of features that make it the preferred choice for many businesses.
What is Kandao Meeting Ultra?
Kandao Meeting Ultra is a first-of-its-kind, all-in-one conference device with dual FHD touchscreen. It captures conference rooms in panoramic 360-degree views with two fish-eye lenses and outputs in 4K resolution. Wave goodbye to those myopia-liked blurred image quality. Having two screens settled underneath the cameras create a face-to-face collaboration, by displaying the meeting right in front of you while showing your front face to the remote attendees. This is especially true since people have become accustomed to the webcam above laptop screen experience. Meeting Ultra captures every detail of a meeting room, offering a seamless and immersive meeting experience to make remote attendees feel like they are there in person.
Why is Kandao Meeting Ultra preferred over other 360 video conferencing devices?
The Kandao Meeting Ultra is a device offer features that set it apart from other 360 video conferencing devices currently on the market.
1.Clear 4K with HDR
Low-light condition performance: Most other 360-degree conferencing cameras struggle to deliver clear images in low-light conditions. This can be problematic for meetings that take place in rooms with poor lighting or for attendees who are not sitting near a light source. In such situations, the video quality can be compromised, resulting in blurry or pixelated images that can be hard to make out.
Image quality: Another challenge with other 360-degree video conferencing cameras is poor image quality. Due to their small sensors and low resolution, these cameras often produce low-quality and blurry images that make it difficult for remote attendees to see faces clearly and for local attendees to look good on the camera. This can lead to a frustrating and unproductive meeting experience, where attendees are unable to fully engage with each other and may miss important details.
Solution:Kandao Meeting Ultra uses a Sony 1/2.3 inch sensor, which provides powerful image processing capabilities. This means that the device can capture and process high-quality images with great clarity, detail, and color accuracy, ensuring that users have a high-quality video conferencing experience with clear and realistic images. Kandao Meeting Ultra output streams at 4K 30FPS HDR video, getting rid of over-exposed images even when conferencing near windows. With the device's HDR video capture capability, the dynamic range of the video is enhanced, providing a more immersive and engaging experience. One important feature that other 360 conferencing does not have is the ability for users to adjust the exposure values in the settings, to brighten or darken the conferencing environment. This creates clear, bright areas and captures realistic facial expressions from attendees in the room.
2.Touch Control + Built-in Android OS
Troublesome use: Some cameras may require complex software installations or additional hardware to connect to a computer or conference platform. This can lead to frustration and delays in starting or joining a meeting. It will lead to further compatibility issues when some cameras are not compatible with all conference platforms or operating systems, which can be particularly problematic for remote teams working across different locations and using different devices and software.
Hard to control: Furthermore, some 360 cameras may have a steep learning curve when it comes to controlling and adjusting the camera's settings during a meeting. Users may have to navigate through complicated menus and controls to make adjustments to the camera's orientation, zoom, and other settings. This can be challenging for users who are not technically inclined, and can lead to a poor meeting experience if the camera is not set up properly.
Unlike other 360 cameras, the Meeting Ultra has a built-in Android OS, making it a complete standalone device that does not require an external computer to use. This is the biggest differentiator between Kandao Meeting Ultra and other 360 conferencing cameras. By connecting to WiFi or Ethernet, you can download any major video conference software like Zoom or Teams directly onto the device and have a video call.
Moreover, the Meeting Ultra has a touch-controlled interface with two FHD displays, enabling users to initiate a meeting without the need for external accessories such as a mouse or keyboard. Being extremely easy to set up and use, the Meeting Ultra is very user friendly even for non-technical people. The touch control feature allows users to quickly adjust camera settings, switch between speakers, or control volume, providing a user-friendly experience.
On the touch screen, users can also select various frames to lock in and zoom onto speakers in the room. By tapping and dragging each frame, users can adjust the viewing angles of the camera to best focus on each speaker.
3.Easy Screen Sharing Than Ever
Limited screen sharing capabilities: Current 360-degree conferencing devices can only share the local screen of the device that is directly connected to it. This makes it difficult to share other device screens in real-time, and can be problematic in large conference settings where it is important for all attendees to be able to see each other's faces when sharing documents or presentations. The lack of multiple HDMI output ports can also make it difficult to display the video on a single screen in a large space, resulting in a sub-optimal viewing experience for attendees.
Kandao Meeting Ultra offers two ways to share screens. With the built-in screen mirroring function supporting Airplay and Miracast protocols, users can easily share screens from various devices including iOS devices, Mac OS devices, Android devices, and Windows system devices. This makes it easy for users to share content from their personal devices during a meeting. Additionally, users can connect their computers to the HDMI IN port of Meeting Ultra to share their computer screen in real-time with attendees in the room or remote participants. This provides a flexible and convenient solution for screen sharing, making it easier for everyone to see and collaborate on content during a meeting.
The Kandao Meeting Ultra's dual HDMI OUT ports allow for the device to be connected to two external screens simultaneously. This feature is particularly useful in large conference rooms, where it may be difficult for everyone to see the video on a single screen. With the dual HDMI OUT ports, users can choose to display the video on one screen and use the other for displaying documents, presentations, or any other content they wish to share during the meeting. This ensures that everyone can see clearly, and that the presenter has the necessary tools to convey their message effectively.
The Kandao Meeting Ultra is a robust conferencing system that sets a new standard for 360 video conferencing devices. It stands out for its superior video quality, all-in-one design, and easy sharing features, offering a seamless and immersive meeting experience, and making remote attendees feel like they are in the same room as local attendees. The device's cost-effectiveness and user-friendly interface makes it a top choice for businesses and professionals.