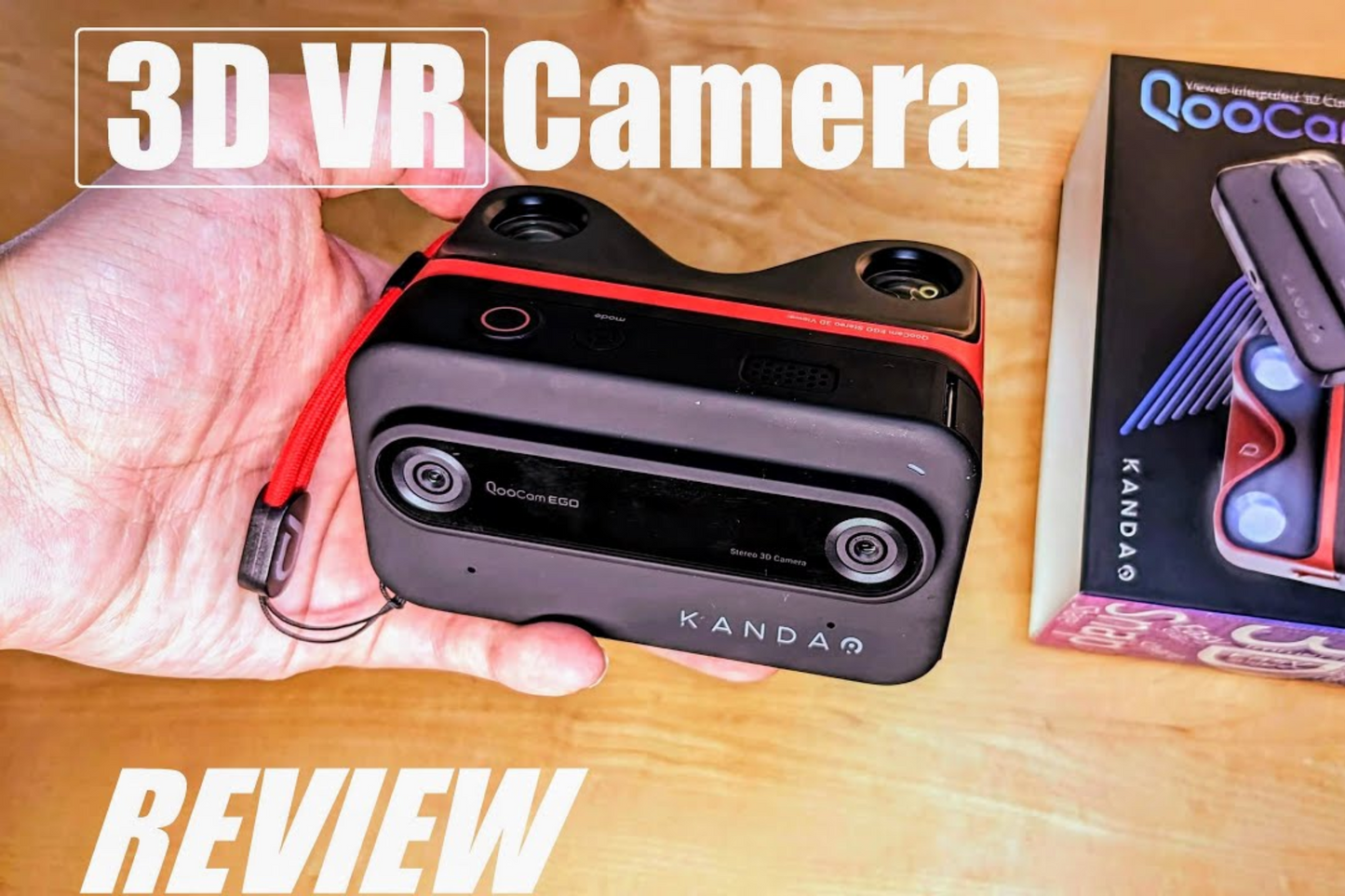 The world's first portable 3D VR digital instant camera created with an attached magnetic viewer.

[🥽See the World in 3D] - KanDao QooCam EGO is the world's first portable digital 3D instant camera created with an attached magnetic viewer. Capture, view, and playback any moment in your life with rich, stereoscopic depth.

[📸Clearer, Sharper & Brighter] - With video resolution reaching up to 3840x1080 @60FPS and photo resolution up to 8000x3000, QooCam EGO 3D instant camera delivers content with excellent sharpness, brightness, and clarity - even four times sharper than Blu-ray!

[📸Experience Life as It Is] - QooCam EGO 3D camera captures the world just as you see it, with a 65mm distance between the two lenses that offer maximum comfort for your eyes. Plus, 60 frames-per-second capture with an impressive 3840x1080 resolution ensures a clear and smooth experience on large screens and VR headsets.

[📸Shoot Like a Pro, Effortlessly] - With a built-in IMU sensor and image stabilization technology, QooCam EGO 3D display camera allows you to shoot cinematic footage without a gimbal or stabilizer - perfect for capturing fast-moving objects or intense sports moments.

[📸Share Your World with Ease] - QooCam APP supports editing/sharing/exporting pictures and videos, you can connect with other EGO users, output side-by-side MP4 video to major VR headsets, and share your content on social media platforms like Facebook and YouTube - QooCam EGO gives you the freedom to explore and share your world like never before.


About KanDao:
Company that focuses on VR technology, Ultra-HD video cameras, and video conferencing cameras. Over the years, we've earned many international authoritative awards such as CES Best of Innovation Awards, iF Design Awards, Red Dot Design Award, IDEA Award, Japan Good Design Best100 Award, German Design Award, etc.

What is our core technology?
*Software + AI Visual Algorithms
*Visual Hardware + Built-in System
*Panoramic image acquisition equipment and supporting solutions

KanDao contains a group of 'geeks' who pursue cutting-edge technology unremittingly, as well as their unchanging "childlike innocence". We firmly believe that VR is no longer a castle in the air for only a few people to play with.

3D Instant Camera
It can be your time capsule or personal expresser. Digging deeply into the value of moving images, EGO is born to capture the fleeting moments of beauty and keep precious memories fresh and vital.

Liberate Images from 2D
We are living in a dynamic world filled with stunning sceneries. QooCam EGO has two lenses that capture the world just as you see it, enabling it to provide an ultra-realistic 3D experience that liberates all your precious moments from the flat screen.

True-to-Life. Fluid, Crisp, Vital
With an interpapillary distance of 65mm the two lenses of QooCam EGO capture the world just as you see it. Working together with our top-tier resolution of 3840*1080@60FPS, QooCam EGO offers the ultimate fluid and crisp video that would completely indulge you in the scene.

Immersive 3D. Complete Indulgence
The revolutionary optical correction algorithm could study and optimize all details involved in the blink of your eyes, create images with incredible depth and excellent realness.

Screen resolution up to 847PPI.
3D viewer resolution of 37PPD is TWICE as much as that of existing VR headsets powered by smartphones.

Clear and Smooth
QooCam EGO is designed for maximum comfort for human eyes. Create immersive content with excellent sharpness and brightness. Capture, view and playback any moment in your life with stereoscopic depth.

Waterproof
The water resistance function of the QooCam EGO 3D camera resists water intrusion to a certain extent, protecting its internal components from water damage.

Snap, App Edit & Share
Editing Eye-Catching Video in Our app with One Click.
Snap, Edit, Share. Smooth than Ever Before.
Add 3D Templates and Hologram Stickers to Splash Your Video.

EGO to EGO Online Sharing
KanDao QooCam EGO 3D instant camera supports an In-cam chatroom and enables EGO-to-EGO instant sharing. Upload your work to our online cloud storage system and share with other EGO users.