The best gift this season: QooCam EGO 3D camera with instant playback
Kandao QooCam Ego is a pocket sized 3D stereoscopic camera abundant specs that helps captures high-quality 3D images and videos. For content creators, discovering the latest trends and creating new material is important to grow their subscriber base. Kandao Qoocam EGO is the latest and greatest to create novel content. 
In this article, we will dive deeper into the performance characteristics of QooCam Ego, and share some practical shooting tips, as well as pointers to pay attention to for daily use, so you can use the full potential of QooCam Ego.
Kandao QooCam Ego is a 3D camera with many performance highlights:
4K 60FPS video quality: Two lenses on the face of the camera captures 1920*1080 each, which results in 4K ultra-high-definition resolution. Files are stored as MP4
24MP Pictures: QooCam Ego captures side-by-side JPEG images in super high quality, 24MP
Intelligent anti-shake: The camera is equipped with an intelligent anti-shake function that stabilizes images and videos if users move around while capturing content, creating smoother images.
Portable design: QooCam Ego is designed with portability in mind. Camera dimensions are 3.6 x 2.1 x 0.86 inches, and weighs 0.35 lbs. The viewer is slightly larger 3.82 x 2.1 x 1.87 inches and weighs 0.35 lbs. This makes both components light, small, and easy to fit in your pocket so you can shoot high quality pictures and videos anytime, anywhere
Multiple shooting modes: QooCam Ego provides multiple shooting modes, including normal mode, slow motion mode, high frame rate mode, etc., to meet your different shooting needs.
Support multiple connection methods: QooCam Ego supports Wi-Fi and Bluetooth connections, and you can view and edit the captured videos through your mobile phone or computer.
Storage: files are stored in a replaceable microSD card that can hold up to 256 GB space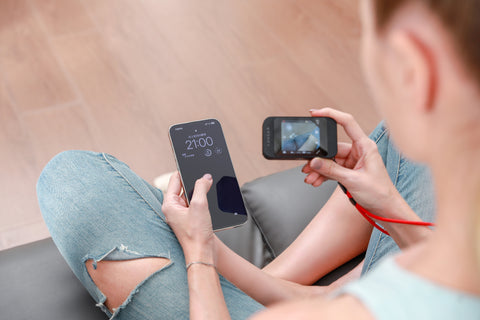 QooCam Ego uses a replaceable lithium battery. As the usage time increases, the life of the battery will gradually shorten, and eventually it will lose its ability to charge. Luckily, this issue can be resolved by replacing the battery. In order to get a better experience, it is recommended that users continue to purchase replaceable batteries from Kandao to ensure quality control. To prolong shooting sessions, it is also recommended to carry a couple spare batteries to make it easy to swap out batteries while on the go. It is really simple to replace the battery by following the steps below:
Prepare tools: You can use your nails or a flathead screwdriver
Turn off the camera: Please make sure the QooCam Ego is off before replacing the battery.
Remove the battery cover: find the battery cover on bottom right of camera, use a flat head screwdriver or nails to push down on the battery cover 
Battery replacement: Take out the old battery and insert a new one. Note that the positive and negative poles of the battery must be inserted correctly.
Installing the battery cover: Put the battery cover back to its original position and push to tighten the clasp
Turn on the camera: After replacing the battery, please turn on the QooCam Ego to ensure that the battery has been replaced successfully, and the device operates normally.
Tips: When replacing the battery, please be careful not to let the battery touch metal objects to avoid short circuit.
Batteries can be purchased on our Kandao website or one of its official designated retailers. You can also buy from online retailers like Amazon or B&H Photo. 
While creating 3D images and videos is a not a new category, it is quickly building in popularity given how easy it is to use this camera. Simply point and shoot at the objects in near or far distance to create 3D depth effect, then put on the attached viewer and instantly play back the image or video in ultra-high-definition. Create a truly an immersive experience.
Kandao Qoocam Ego has some special features that elevates its functions as a 180 degree 3D headset. First you will need to download the QooCam app and register an account to access the QooCam community. 
Qoocam App: easily connect your phone to the device to remotely take pictures on the EGO, download content from the device directly on to the phone to edit immediately. You can also remotely adjust the settings on the phone app. 
QooCam community: share multiple images or videos at once by generating a 4 digit code to share with the community. With your account, you can also download the content from other creators directly onto your device by using the 4 digit code for their galleries. 
Other 3D content: See a 3D photo or video that you would like to view on the EGO? Simply download the content onto the microSD card in side by side JPEG for photos or side by side MP4 for videos, rename the content to be similar to your other EGO photos and view instantly on the device.
This camera is perfect for photographers and videographers looking to dip their toes into the 3D world. It also makes a perfect gift for this holiday season for content creators from every level of expertise.
Curious to learn more about the QooCam Ego ? Refer to the detailed introduction on the ego official, or watch our promotional video on Youtube. 
Excited to try out the camera? Get one for yourself today by purchasing on our website