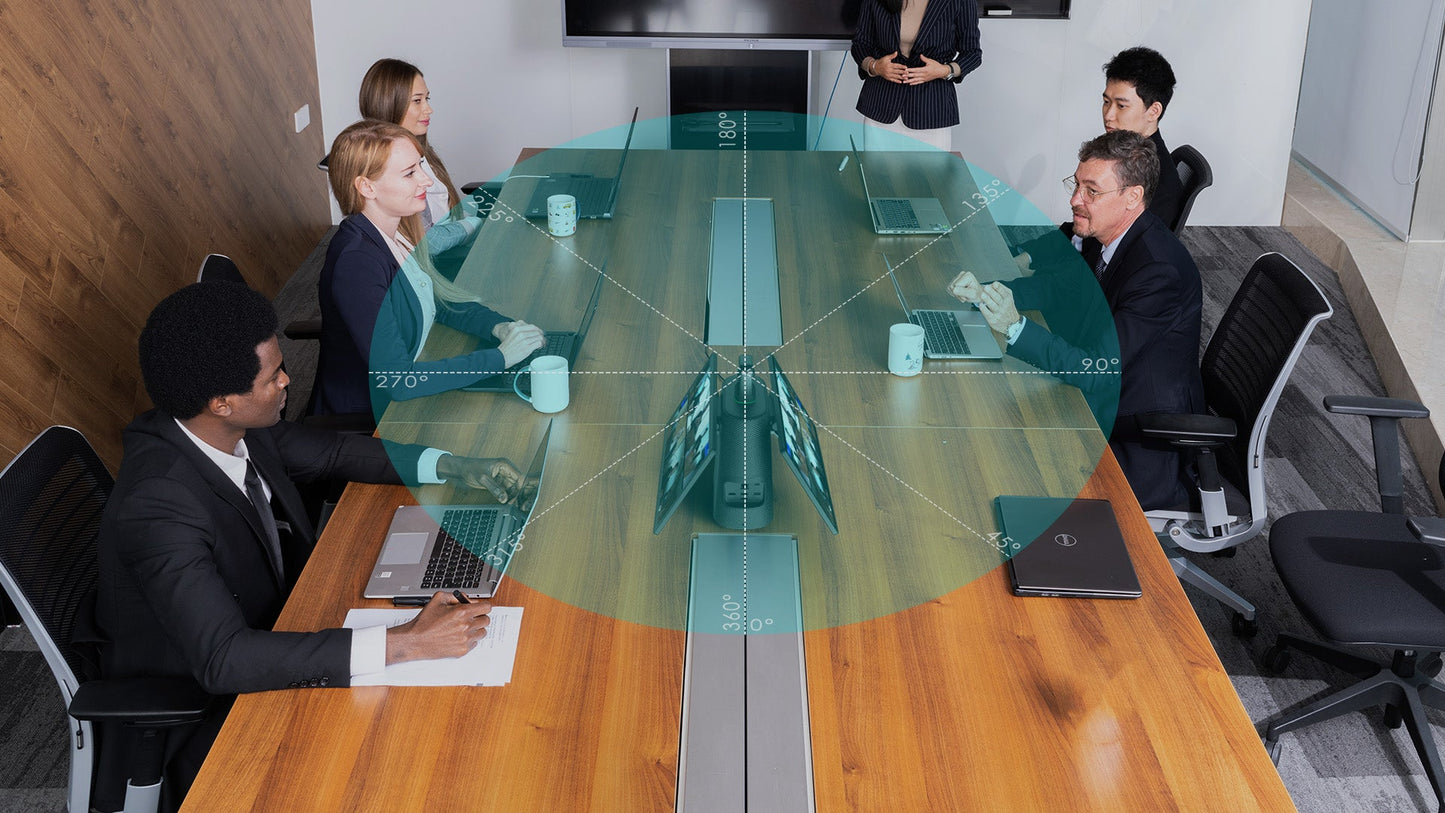 Shenzhen, China, December 13, 2022 –– Kandao is excited to announce the launch of the Meeting Ultra, a 360 conferencing device with two attached rotatable touchscreens to enable users to have conference meetings anywhere, anytime, any way you like.
This new iteration in our hybrid meeting conference series builds upon our previous award-winning Meeting Pro. Just like previous models, Meeting Ultra features two lenses for panoramic video capture, omnidirectional mics that pick up audio up to 18 feet, HiFi speakers and built-in Android operating system, so that the device can plug right into any monitor and functions as a stand-alone video conferencing terminal. Smart-tracking AI algorithm allows the device to merge audio and video inputs to always focus on active speakers in any meeting.

Most important in this new iteration is the increase in video quality to 4K 30FPS and two rotatable touchscreen displays to enable users to view remote participants and easily log in to conferencing platforms directly from the device. With the addition of two displays, users no longer need to turn their heads towards external monitors, thus showing remote participants the side of their faces, a common challenge of 360 conference devices. Users can look directly at the camera and displays, so their faces will always be in the frame for remote participants.

The outer body of the Kandao Meeting Ultra includes two HDMI OUT ports to support up to two external display screens and an HDMI IN port to share files from a computer directly onto the two attached displays. There is also an ethernet port for wired connectivity, 3 USB A ports to connect keyboard and mouse, an USB C port for peripherals (additional camera, microphone, or speakers), and an SD card slot for recording meetings.

Additional connectivity options include 5G hot spot, wifi network, or LAN to truly allow users to have conference meetings anywhere. Kandao devices are compatible with all major video conferencing platforms, Zoom, Microsoft Teams, Google Meet, Slack, Cisco Webex.

The device is designed to be flexible to the business user's needs. It can either be permanently situated in the middle of the room to quickly set up for conference calls, or it can be carried from one office to a client site. This is perfect for panoramic broadcasting from conference rooms, single-person presentations, huddle room discussions, board meetings, and on-the-ground meetings for emergency response teams.

Kandao believes the Meeting Ultra offers unrivaled portability and flexibility for business users. As the world transitions to hybrid meetings, conference rooms must be upgraded, and employees must be equipped with new tools that enable the immersive experience of in-person meetings, even from the most remote locations.
About Company
Kandao is a VR research and hardware startup focused on creating next-generation imaging products, enriching the human life experience. Driven by the development of hardware and software, Kandao is a pioneer in VR technology, Ultra-HD video cameras and video conferencing cameras. Founded in 2016, it is the first Chinese company honored by the CES Best of Innovation award in the digital imaging category, and the first company to have its 12K 3D VR camera used to live-stream in 8K VR.
Have questions or media inquiries? Please reach out to our Chief Growth Officer, Jiawei Chen, jiawei@kandovr.com