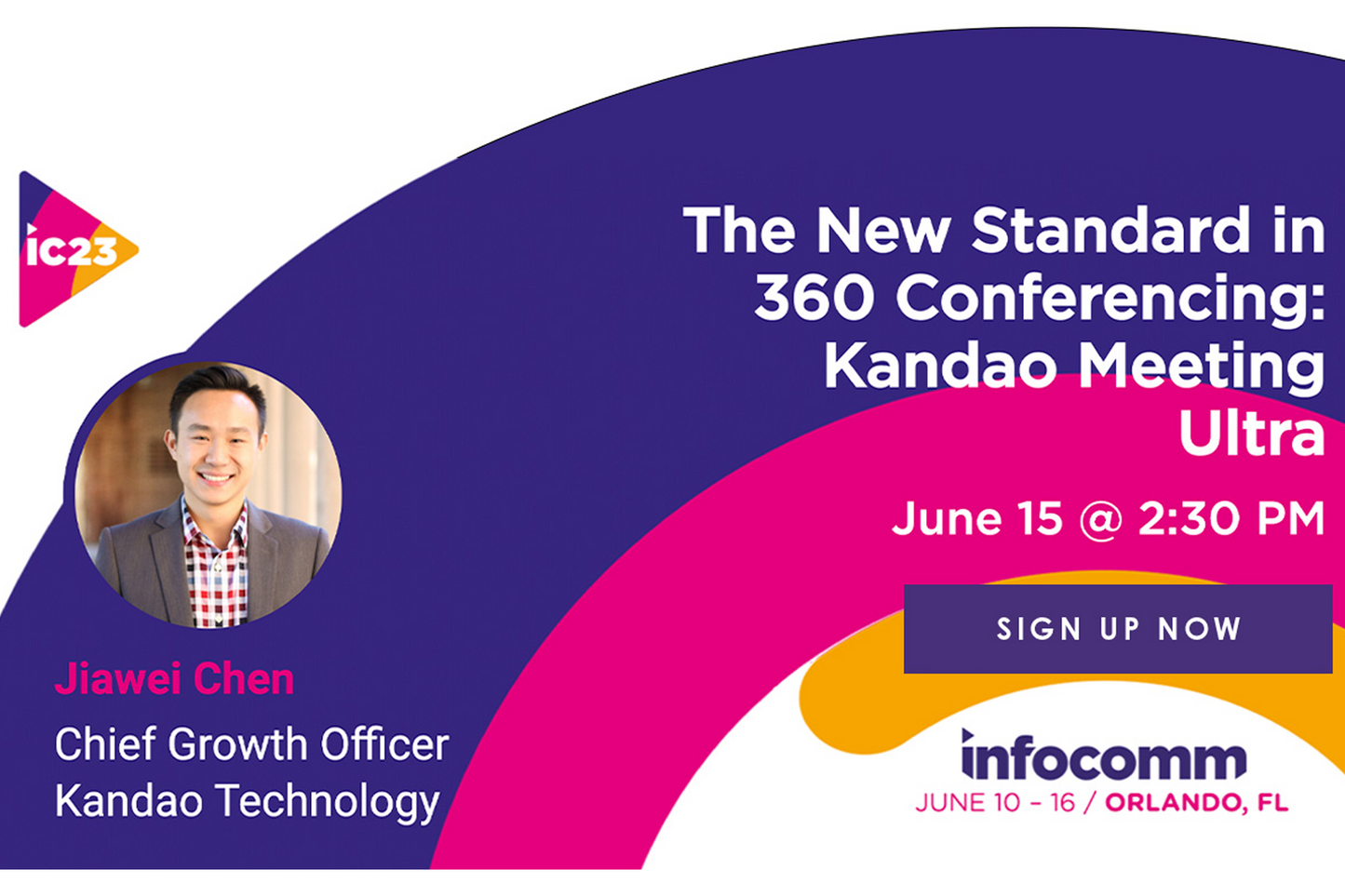 Kandao Technology, a leading provider of high-quality 360-degree cameras and immersive videoconferencing solutions, is thrilled to announce its participation at InfoComm 2023 at booth 3571. The company will unveil its latest innovation, the Meeting Ultra, a state-of-the-art video conferencing device designed to revolutionize modern communication in the workplace. In addition, Kandao Technology will host an exclusive manufacturer's training session on Thursday, June 15th, from 2:30 to 4:30 PM PST, in room W10AB.
InfoComm, the largest professional audiovisual trade show in North America, will take place from June 10th to 16th, 2023. The event attracts thousands of professionals and showcases the latest innovations in the AV industry, making it the ideal platform for Kandao Technology to debut the Meeting Ultra.

The Meeting Ultra is Kandao Technology's most advanced video conferencing solution to date, offering a complete 360 conferencing solution with cameras, mics, speakers, two touchscreen displays, and built-in Android OS. With upgraded 4K streaming, HDR color contrast, and advanced intelligent meeting AI algorithm, it is designed to enhance collaboration and productivity, making it an essential tool for businesses adapting to the rapidly evolving demands of the modern workplace.
During the exclusive manufacturer's training session on Thursday, June 15th, attendees will have the opportunity to gain hands-on experience using the Meeting Ultra and learning more about its innovative features. Kandao Technology's experts will demonstrate the product's capabilities and share best practices for optimizing video conferencing experiences. The training will also include a Q&A session where participants can directly engage with the Kandao team and address any specific inquiries.
"We are incredibly excited to introduce the Meeting Ultra at InfoComm 2023 and showcase its potential to transform the way people communicate and collaborate in professional settings," said Dan Chen, CEO of Kandao Technology. "Our manufacturer's training session will provide attendees with valuable insights and hands-on experience to make the most of this groundbreaking technology."
InfoComm 2023 attendees are encouraged to visit Kandao Technology's booth 3571 to experience the Meeting Ultra firsthand and learn more about the company's comprehensive range of immersive video solutions. To register for the manufacturer's training session, please visit bit.ly/Infocomm-MT46.
About Kandao Technology
Kandao Technology is a leading provider of 360-degree cameras and immersive video conferencing solutions. Founded in 2016, the company has consistently delivered innovative products that empower businesses and individuals to harness the full potential of virtual communication. With a strong focus on quality, performance, and user experience, Kandao Technology is dedicated to pushing the boundaries of audiovisual technology and redefining the future of collaboration.