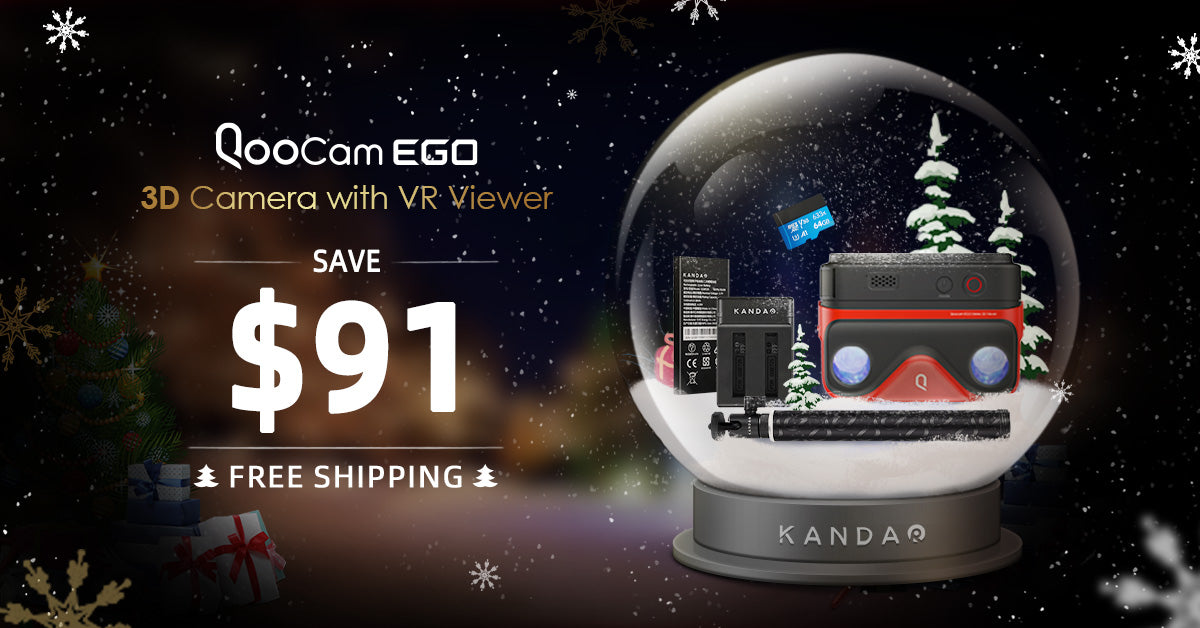 Looking for the perfect gift for your favorite photographer? You've come to the right place.

3D cameras are making a strong comeback recently with advanced technology to capture and merge stereoscopic images. Using two lenses, 3D cams capture two images with a slight difference in focal points and then combine both images to create a single picture with depth. Seeing 3D enables users to sense the depth of objects in an image or video. 

Every individual can use 3D for different purposes. From capturing cute pet videos to photographing product pictures for e-commerce, there is a use case for every level of photographer.
3D Cameras Buying Guide
1.Image Quality
This is one of the most important criteria when selecting a camera. Understanding camera image quality can be simplified with the number of resolution pixels the camera has. Higher resolution numbers results in higher-quality images.

This concept applies with 3D cameras, despite the fact that 3D capability has been included as a component. The very best 3D cameras have a still image resolution of at least 10 megapixels and a widescreen video resolution of at least 4K.
2.App Compatibility
The most cutting-edge 3D cameras must connect to a smartphone app to enable additional capabilities from real-time editing and live broadcasting to sharing on social media platforms like Facebook and YouTube. 
3.Convenient Portability
If you plan on shooting in 3D, you'll want to have the ability to do so regardless of where you are. The portability and compactness of today's 3D cameras are one of the most attractive qualities of these devices. You must reconsider this purchase if it is too large to fit in the pocket of your pants.
Recommended Products
1.1.Kandao QooCam EGO 4K 60FPS Capture Instant Camera
QooCam EGO is the world's first pocket-sized 3D camera with instant immersion, capturing smooth, clear, and vibrant 3D photos and videos in ultra-realistic stereoscopic views. With attachable magnetic clips that affix to both sides of the 3D viewer, the Qoocam EGO enables users to instantly view stereoscopic pictures directly on the device, experiencing extraordinary depth and realness.


Doubling as an action camera, the EGO is IP67 dustproof and waterproof, which enables users to shoot under various weather conditions, without fearing it will damage the camera. With a built-in 6-axis anti-shake and SuperSteady algorithm, it will always reliably output stable images without using a gimbal. Connect to the Qoocam app for quick editing with in-cam 3D stickers and various color toning filters. If you are planning on traveling with only one camera to vividly record your vacation on the beach, pool, or in the snow, let QooCam EGO be your best option.

2.Fujifilm FinePix Real 3D W3 Digital Camera
Fujifilm lenses, renowned for their superior resolution and clarity, are the lenses of choice for professional photographers and a vital component of many professional photographic systems.

The Fujifilm FinePix Real 3D W3 camera creates realistic 3D images by utilizing twin lenses and dual image 3D camera sensors, a design that performs very well for stereoscopic photography. It also has a 3D-enabled display, which allows users to view images in 3D without the need for specialized glasses.

Record HD 3D movies (720p resolution); dual 10-megapixel CCD and lens system

Capture high-resolution images in 2D and 3D

Mini-HDMI output jack offers easy connection to a compatible 3D HDTV; view images and movies instantly in 3D

Capture images and movies to SD/SDHC memory cards (not included)

3.5-inch widescreen autostereoscopic LCD displays images and movies in 3D instantly, with no glasses required

3.3.Vuze XR 5.7K 3D VR & 360
The Vuze XR is the most robust 3D camera, but it traded 4K quality for a waterproof shell. The Vuze XR has a waterproof polycarbonate dive case add-on option to prevent your camera from water damage. The dive case operates well up to 100 feet underwater and still be safe from gravity. To attain this level of security, the camera quality isn't as sharp as others on our list, but it has two 12-megapixel fisheye lenses.

The Vuze XR 3D camera enables playback and also live stream. Live streaming and sharing with this 3D camera is super quick. Simply connect to the mobile app and immediately share the video on social media like Facebook or Youtube.